FitzSimmons Gets Animated on 'Ultimate Spider-Man Vs. The Sinister 6' (VIDEO)
Spidey's going to need some backup on Sunday's episode of Ultimate Spider-Man Vs. The Sinister 6, and lucky for him, he's getting two S.H.I.E.L.D. agents for the price of one!
The upcoming episode will see Agents of S.H.I.E.L.D. duo Leo Fitz and Jemma Simmons—guest voiced by their live action portrayers Iain de Caestecker and Elizabeth Henstridge—make their debut in the Marvel animated universe. They'll be lending the Web Warriors their scientific expertise and training as agents.
RELATED: 16 TV Scientists Who Have Proved Their Smarts
Their help couldn't come at a better time, as the Web Warriors will be searching the S.H.I.E.L.D. Academy for a Doc Ock spy, based on the Vulture's revelation. But as the exclusive clip below shows, this might not be the best time—especially for FitzSimmons—as Dr. Curt Connors is not only living up to his nickname ("The Lizard") by transforming into one, but he's also using his bite to spread a virus that turns other people into lizards as well.
Watch the exclusive clip below and then catch Ultimate Spider-Man Vs. The Sinister 6 when it airs Sunday at 9am/8c on Disney XD.
[jwplatform cTAWDwPd]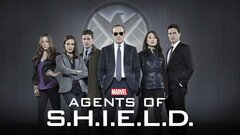 Powered by