The New Viceland Channel Brings Ellen Page to Reality TV
The Viceland channel launches today with an unusual slate of programming designed to catch your attention. From Ellen Page traveling the LGBTQ world to a series dedicated exclusively to marijuana, Viceland's new shows are as audacious as the world it explores.
Viceland's creative department is headed by Spike Jonze (MTV's Jackass, Her) and comes from the minds at Vice Media. The network kicks off this morning in the former slot of the H2 channel. By Wednesday, six new (and potentially controversial) new series will have launched, further establishing Vice's brand as presenters of all things cute, quirky, and just a little bit crazy.
Some of the new series coming include:
Noisey (Tuesday, March 1, 10/9c) – a global music documentary show hosted by Zach Goldbaum
Weediquette (Tuesday, March 1, 11/10c) – a study of the social, economic, and scientific impact of legalized marijuana, from producer Krishna Andavolu
Gaycation (Wednesday, March 2, 10/9c) – a travel show where actress Ellen Page steps into the reality TV frame to explore queer culture and identity around the world with her friend Ian Daniel
Balls Deep (Wednesday, March 2, 11/10c) – a documentary series from Vice magazine editor Thomas Morton thatt plunges into every subculture imaginable (and probably a few you haven't imagined)
F*ck, That's Delicious (Thursday, March 3, 10/9c) – a food show that chronicles rapper Action Bronson's life in all things delicious
Flophouse (Thursday, March 3, 10:30/9:30c) – a comedy show that focuses on the lives of young stand-up comedians in group houses, from Clare O'Kane and filmmaker Lance Bangs
Eddie Huang, whose life inspired ABC's Fresh Off the Boat, will also debut his online food travel series, Huang's World, on the network. And more shows include Fashion Week Internationale, an inside look at Fashion Week from model Hailey Gates, Vice World of Sports with sports commentator Sal Masekela, and Black Market, about black marketing trading with host Michael K. Williams (The Wire).
With the channel's eclectic offerings, Viceland will certainly lend a counter-cultural unity to the TV landscape.
https://www.youtube.com/watch?v=4pCNJKGhQXM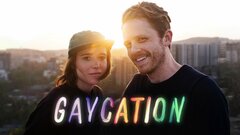 Powered by