Annabeth Gish Dissects 'The X-Files' Reyes Twist and Her True Motives
Spoiler alert! Do not read this post unless you've watched The X-Files' finale, "My Struggle II."
If the reveal that Monica Reyes (Annabeth Gish) has spent the past decade working for The Cigarette Smoking Man (William B. Davis) surprised The X-Files fans, they were not alone.
"I was shocked," Gish admits. "When I first read the script, I was shocked, because it's such a different turn, and an unexpected turn for Monica to make. But Chris [Carter] and I spoke, and I think Monica had very good reasons. Her real reason in the end was her loyalty to Scully."
"I love Monica so much," she continues. "It's the first time I've ever gone back to a character, and go back to a character and have a different [take]—just like life, things have changed. She's made some choices, she's gone in a different direction. She has a little heavier heart. It's fascinating."
RELATED: Chris Carter on the Finale Cliffhanger and What's Next
Viewers only got a bit of backstory about what Reyes has been up to in the nearly 14 years since the series finale, but Gish appreciates that her character's reunion with Scully (Gillian Anderson) was so charged. "I think it's with a heavy heart she refers to herself [to Scully in their initial call] as 'Someone who has always been there for you,'" she acknowledges. "It's with mixed emotions. But she does do the right thing in the end. She gives the virus cure, and I think she means well. I also think there's a lot more to the story."
"My first question for Chris was, 'Has Monica gone to the other side? Is she a foe?'" Gish continues. "And we agreed that no, she is not. There's a much larger reasoning there for her actions."
Though Gish acknowledges that much of Reyes' time off-screen is still a question mark for her, she feels Monica's move in the finale to contact Scully and give her the key to the vaccine was an act of defiance to CSM versus something he put into motion. "I definitely think she put her life at risk to do that, for sure," she says. "Cigarette Smoking Man, I think he is an evil, evil person."
RELATED: 17 Lingering Questions After the X-Files Finale
And though Reyes agreed to collaborate with CSM a decade ago, Gish hopes she was able to keep some connections. "Doing this, she went off the grid; she had her reasons and her motives," she says. "In my mind, I always hope there's some relationship with Doggett that still exists."
The revival wasn't able to stage a reunion between the former partners—due to Robert Patrick's (Doggett) commitment to CBS's Scorpion—but Gish says she'd jump at the chance to work with Patrick again on another project.
"Occasionally we chat, and I adore him immensely," she says. "I adore his family; I adore Barbara, his wife. There's a lot of love there between our family and his family. I would work with him again in a heartbeat."
In the meantime, Gish is keeping busy on ABC's Scandal. Check back with TV Insider later today for Gish's take on that role!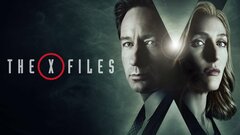 Powered by