'The Enemy Within' Creator on How the Show Dives Into the U.S.'s 'Unnerving' Spy Population
Let this chilling fact sink in: An estimated 100,000 foreign spies reside in the U.S., working to undermine America every day.
"It's unnerving," says The Enemy Within creator Ken Woodruff. It's also the raw material for his new thriller, which finds FBI agent Will Keaton (Morris Chestnut) forced to team with Erica Shepherd (Jennifer Carpenter), a former CIA employee currently imprisoned for treason. Seems she's the only one with the skills to help him foil certain terrorists.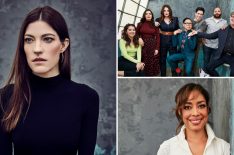 See Also
Plus, cast members from 'This Is Us,' 'Good Girls,' and more!
Russia Investigation

The premiere heats up with a coordinated attack on several U.S. cities. Keaton quickly figures out that Russian operative turned rogue agent Mikhail Tal is behind it all. "Tal has his own agenda," Woodruff explains. "His targets have been predominantly U.S. intelligence officials."
Ulterior Motives

The FBI agent and Shepherd both hope to bring Tal down for their own reasons. "Keaton wants justice," says Woodruff, but this time it's personal — Tal killed someone close to him. And a bitter Shepherd, who'd been manipulated by the Russian, will do what it takes to vanquish him. Adds Woodruff, "It's about eliminating a threat."
Eyes on the Spies

Suffice to say, Keaton and Shepherd will have plenty of enemies in their sights. Every week, they'll try to eliminate someone in Tal's network, bringing them closer to the ringleader. "Each of these cases is like a chapter in a novel," says Woodruff, "and each of those chapters can take us into different worlds."
The Enemy Within, Series Premiere, Monday, February 25, 10/9c, NBC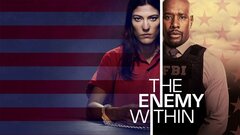 Powered by