'iZombie's David Anders on Blaine's New State of Being, His 'Uphill Battle' with Peyton
Spoiler alert! This post contains spoilers for the "Eternal Sunshine of the Caffeinated Mind" episode of iZombie.
iZombie has another zombie on its hands.
Blaine (David Anders)—who has spent the past few months alive again after Liv (Rose McIver) gave him a dose of the zombie cure—was kidnapped (wearing only his boxers) and then killed in "Eternal Sunshine of the Caffeinated Mind" by Mr. Boss's crew, and then buried in a shallow grave in the woods.
Luckily for Blaine, the death didn't stick: he woke up the next morning, buried alive, and fought his way out of his grave. (Much to the horror of an unsuspecting group of bird-watchers gathered nearby.)
But with Blaine now back in zombie mode and presumed dead, where will he go next? We spoke with Anders about what's to come.
Blaine is now undead…again. What is his mindset when we next see him? And does he have any regrets about his loss of humanity?
Yeah, I think he was getting used to being a human again. I think he was enjoying the fruits of humanity and being able to taste things, and the freedom that humanity allows. But, of course, he did have some drunk rumblings about wishing he was [a zombie]: Zombie Blaine was the real deal. Zombie Blaine made him who he was. And he missed that guy. I think he may be torn. Nothing is concrete in this iZombie world. Though he's a zombie now, he could be a human tomorrow, you never know.
And Ravi (Rahul Kohli) is working on a new version of the zombie cure. How actively aware is Blaine of that in the upcoming episodes?
Well, Ravi with his zombie rats, he's always keeping everybody privy to how much time they've got. For Blaine and Major, they're against the clock. In the next episode, the first person Blaine goes to see is Dr. Chakrabarti. We'll get to the bottom of this new cure thing; he may have something for Blaine.
How will Mr. Boss (Eddie Jemison) react when he discovers Blaine isn't dead?
Well, that's a big decision for Blaine: whether to make a flashy reentrance into the world, or lay low for a while. That's something to be revealed. Boss might be in the dark about whether Blaine is alive or dead.
Who can Blaine really trust at this point?
Exactly. [Laughs] The only person he can trust is himself. And I don't even think he can trust himself as far as he can throw him. He's kind of alone in the world. There's some exciting developments [to come]. But it's a lonely world out there for Blaine right now. Up is down, north is south, it's hard to make heads or tails of anything.
In terms of his family, he had his people torture his father to try and get his rightful inheritance. But aside from that awkward familial tie, does he want a connection in the world? Or is he okay with staying solo?
I think his end game would be to get the millions of dollars he deserves from his father's inheritance, get the girl—I think he's really hung up on Peyton. But that's a real uphill battle. I think that would be his ideal outcome. In the meantime, he's got to just get through the day to day. The newfound zombie-ism is another wrinkle in the life of Blaine DeBeers.
What can you say about his next interaction with Peyton (Aly Michalka)?
It's forgetful. [Laughs]
In the meantime, Candy (Carrie Anne Fleming) and Blaine had a little bit of fun before he returned to his zombie state—and she's now a zombie. What will their relationship be like going forward?
I really haven't seen [much] as far as Candy and Blaine's relationship. I think it's what it always was, but there is some power shifts and power struggles happening within the world of iZombie, and within Shady Plots itself…the fact that she's a zombie, I don't think it changes their dynamic much.
You had to spend a lot of this episode wearing next to nothing. What was your reaction when you saw that aspect in the script, especially since part of it was outside?
They turned me into Old Manders right before Christmas [in the production, as Blaine attempted to trick his newly-unfrozen father into thinking decades had passed], which was like five hours in makeup. It turned out great, and it was a lot of fun to do that stuff. But then we get the script for 2×14, which is the first episode after the holidays, and I'm naked in half the episode. [The writers are like,] "David, have yourself a Merry Christmas! Have yourself a carb-less Christmas! Give our love to your family for us. Have fun and we'll see you naked on January 5th!" [Laughs]
I did my best. [The holiday hiatus] took me away from my trainer and my nutritionist, and I tried to get my dad to the gym every day in Oregon. I'm sorry you guys had to see that. [Filming] out in the cold, it was something. I'll tell you, being buried alive was more comfortable than digging myself out of the grave; it was a lot warmer in the dirt. And it was a bit of a hairy experience as they were putting dirt on me.
I realized I have experience with being buried: [it happened] in Heroes; I did a movie called The Revenant. I've been buried alive a lot! But it's always been in a coffin—this was just dirt on my body. They would bury it up to my neck, and they'd give me a breathing hose, and they'd fill it around my face, and they take the hose, and "Action!" When the hand first bursts out, [my thought] was, "I'm free!" And then, "Oh, s—, let's go act now and perform for the cameras."
Everyone on set did a wonderful job with keeping me as comfortable as possible. And it was a lot of fun; it turned out really cool. A lot of the shots were amazing with the Girl Scouts. The crane shot of the throat slit was fantastic, I think. I don't know what my naked body is doing as I'm wailing that wonderful song, but hopefully people like it.
There has been a good amount of you singing on the show lately. How did that come about?
[iZombie creators] Rob [Thomas] and Diane [Ruggiero-Wright] are wonderful, in doing that, and playing to our strengths and learning about us as people and writing stuff we actually enjoy into the show. You have so many Star Wars and video game references for the Rahul and [Robert] Buckleys. The basketball and New York Knick references for Malcolm [Goodwin].
Diane heard me sing one time, at Comic-Con, I think. And she tells the story that I was singing, walking from one press thing to the next, and she was like, "And panties just started flying, left and right." Those were Diane's words. So she made it her business to get me singing in the show. I'm glad they found a way through a plot line. I'm a funeral director; I think that's a fantastic way to go about it. It's just been an absolute joy. I've got a wonderful job. It's a treat going to work every day.
Looking ahead to the final few episodes of the season—and with so many people potentially gunning for Blaine—what kinds of conflicts are in store?
After [last night's] episode, everything keeps shifting. It's this amoeba. You think it's here, and then it goes here and then it goes there. Everything's coming to a final climactic showdown—I can't tell you what that showdown is going to be or who it's between, but it's all coming to a head. Hopefully we can up the ante from last year's exciting finale. From what I hear—I haven't read it yet—we just may.
Where do Major and Blaine stand in the next arc of episodes?
Major and Blaine still have some dealings going on. There's a big plot point that has to do with Major and Blaine and another main character. But I can't speak to it! [Laughs] Everybody's going to be involved with everybody; everybody's going to cross paths.
And will Liv and Blaine be mixing things in this final run?
She's going to need Blaine's help!
iZombie returns Tuesday, March 22 at 9/8c on The CW.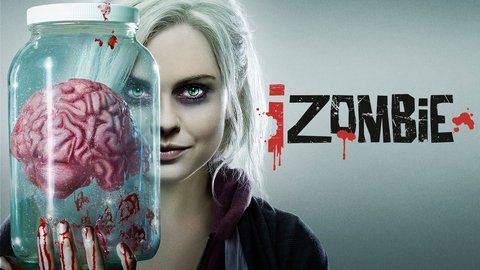 iZombie
where to stream
Powered by