'Empire' Star Jussie Smollett Hospitalized After Possible Racial & Homophobic Attack
Empire star Jussie Smollett is recovering after being brutally attacked in what the Chicago police are calling a possible hate crime.
The 35-year-old was reportedly leaving a restaurant around 2 a.m. Tuesday morning in Chicago when he was approached by two men in masks who started shouting racial and homophobic slurs at him, according to TMZ.
Police report that they started to beat Smollett, poured an "unknown chemical substance" on him, and during the altercation, wrapped a rope around his neck. He was left with a broken rib and is being treated at a Chicago hospital for his injuries.
"Overnight the Chicago Police Department received a report of a possible racially charged assault and battery against a cast member of the television show Empire," the police confirmed in a statement. "Given the severity of the allegations, we are taking this investigation very seriously and treating it as a possible hate crime."
Smollett plays musical artist Jamal Lyon, one of Cookie (Taraji P. Henson) and Lucious' (Terrence Howard) sons, on the Fox drama series. His character is openly gay. Smollett came out publicly in 2015 to Ellen DeGeneres but prefers to keep his personal life private.
"There is no closet, there's never been a closet that I've been in," he said.
GLAAD — which stands for Gay & Lesbian Alliance Against Defamation — revealed to The Hollywood Reporter that the organization reached out to Fox and Smollett's team. "Jussie is a true champion for LGBTQ people and is beloved by the community and allies around the world," its statement read.
Empire's co-creator and executive producer, Danny Strong, took to social media to express his disgust.
I'm deeply horrified and saddened by the racist and homophobic attacks against @JussieSmollett. He is a kind and profoundly talented soul whom I respect with all my heart. The terror of racism and homophobia has no place in our society, it is the most indecent way to live…

— Danny Strong (@Dannystrong) January 29, 2019
…whoever did this, do not forget that you are nothing but hate filled cowards while Jussie's talent and activism will continue to shine a bright light on to the world for decades to come.

— Danny Strong (@Dannystrong) January 29, 2019
Empire producer 20th Century Fox Television also responded to the news in a statement to Variety. "We are deeply saddened and outraged to learn that a member of our Empire family, Jussie Smollett, was viciously attacked last night. We send our love to Jussie, who is resilient and strong, and we will work with law enforcement to bring these perpetrators to justice. The entire studio, network and production stands united in the face of any despicable act of violence and hate — and especially against one of our own."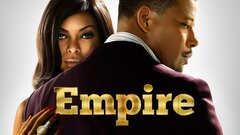 Empire
where to stream
Powered by