'The Grinder': Maya Rudolph Explains Jillian and Dean's Unconventional Relationship (VIDEO)
There's plenty of disorder in the Sanderson family on Tuesday's episode of The Grinder when Dean (Rob Lowe) continues his romantic relationship with his new therapist, Jillian (Maya Rudolph), much to the objection of his brother, Stewart (Fred Savage).
In the exclusive clip below, Saturday Night Live veteran Rudolph previews what's next for Dean and Jillian's relationship, and explains the unconventional methods the two take in order to mix business with pleasure.
The Grinder airs Tuesdays at 9:30/8:30c on Fox.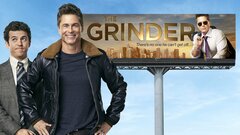 Powered by