Murtagh Returns! 'Outlander' Star Duncan Lacroix on His Comeback, Gray Wig & What's Next
[This article contains spoilers from the Season 4 Episode 5 of Outlander, "Savages."]
Silver fox Murtagh! The beloved character, played by Duncan Lacroix, has made his return to the Outlander series.
Fans last saw the highlander being shipped off to the American Colonies after Ardsmuir prison was shut down in Season 3. This deviated greatly from the book series by Diana Gabaldon, in which Murtagh didn't survive the Battle of Culloden.
In Sunday's episode, "Savages," Young Ian (John Bell) and Jamie (Sam Heughan) stumble upon the long-lost character while on business in the nearby town. Murtagh is now rocking some gray hair, working as a blacksmith, and in true warrior fashion, still fighting for causes he believes in. The reunion between Jamie and his godfather is tear-jerking and they have so much to catch up.
TV Insider spoke exclusively with Lacroix about his comeback to the series. "It was weird being back after such a long time," he said. "There are so many new faces in the crew and cast. It was great working with the youngins — Outlander's next generation."
Your character exited in the middle of Season 3. When did you know you were coming back?
Duncan Lacroix: For a long, long time now. I was talking to the writers and producers during the filming of Season 2 and they were telling me they wanted Murtagh to survive the Battle of Culloden. So, I've know since then and it's been a very, very long time to keep a secret.
Did you talk to Diana about returning?
No, not really. It's such a big divergence from the book so I've kinda gone in a different way with Murtagh. I just had to trust my own instincts. It's a leap into the unknown.
Murtagh vaguely explains what he's been up to since we last saw him at Ardsmuir. What did you fill in about your character's life?
Well, for 12 years he's been an indentured servant under a sadistic landowner. I didn't really go to any great lengths and figure out for myself an intricate backstory of what happened to him. It was more of an attitude of someone who's been completely dispossessed of everything that's important to him for such a long time. Jamie was taken away from him. Scotland was taken away from him. So it's the mindset of how do you endure when you've really got nothing to live for? What does that do to a person? He's kept his core values and he's adapted, which is something I love about the character.
Murtagh hasn't wasted any time gathering a small rebellion group. This time, he's on the right side of history. Will we see more of that?
Definitely. It becomes a major part of his storyline for the rest of the season. It's kinda like his second crack at Culloden. He gets to fight that fight again. He becomes a political leader and [we will see] how that affects his relationship with Jamie, as well.
And he's a blacksmith now.

Yeah, his profession was all mapped out and then about a month before we did a little blacksmith training. It made sense to me completely. He could either do that or go into the woods and be a complete hermit.
Did you do any research about Colonial America?
I read a few historical essays about the Regulators in North Carolina and how that civil unrest was leading up the Revolution.
How many episodes can we expect to see you in?
A lot. I'm not supposed to say any more than that.
Do you like the gray wig?
It was a bit of last-minute thing. We were trying out a lot of wigs and it was coming up to the first day of shooting and we had a darker wig with a couple of gray strands but it wasn't really showing up on camera. Suddenly, we tried the Gandalf wig and it worked.
There are online rumors your character is combined with another character from the books who marries Aunt Jocasta… any truth in that?
I think for a while, since there were rumors [Murtagh] was coming back, fan theories combined him with a character from the books called Duncan Innes. But Murtagh very much as his own story line. I'm aware that people have been rooting for Murtagh [to return] and it's going to be very exciting to find out what the reaction will be.
Outlander, Sundays, 8/7c, Starz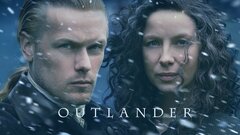 Powered by