Critic's Notebook: Globes Nominations Favor the New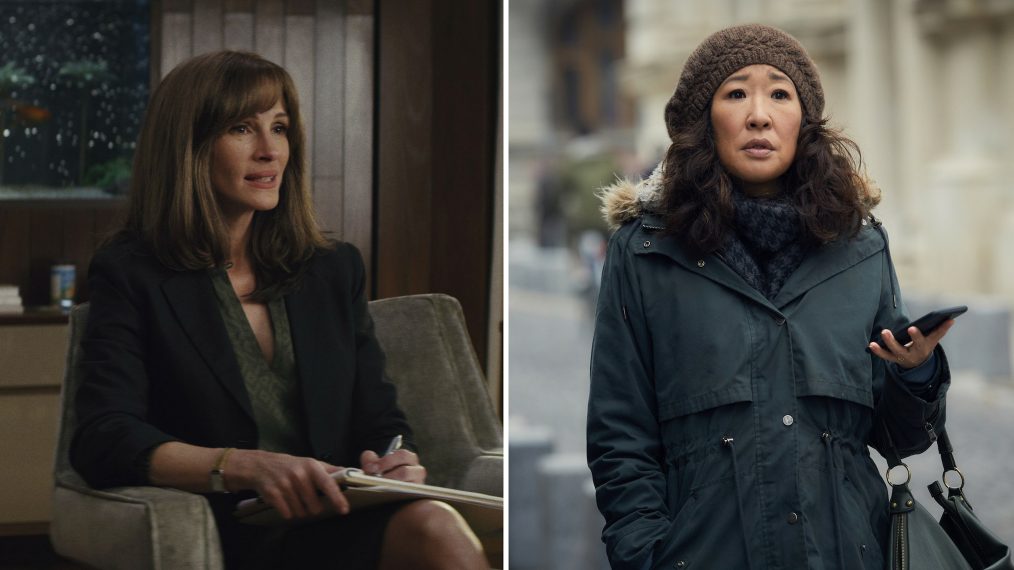 Better late than never. While the Golden Globes has a decent track record of rewarding new and buzzy shows and marquee stars — a trend that continues this year — there are always blind spots in this golden age of peak TV. And in a rare moment of getting it right when it counts, the Hollywood Foreign Press voters finally saw the light when it came to FX's The Americans and its acclaimed final season.
Tying with Amazon's Homecoming as the most nominated drama series with three nods — there aren't that many categories (unlike the Emmys) — Americans was nominated for the first time for best drama, also citing lead actor Matthew Rhys (his second) and actress Keri Russell (her third, including a 1998 win for Felicity, from those years when the Globes aimed young).
See Also
Also, find out what the stars of 'Sharp Objects,' 'Outlander,' and more had to say.
The stylish Homecoming, which also scored for lead actress Julia Roberts and actor Stephan James, is one of four freshman drama series in the mix, joined by Netflix's thrilling Bodyguard (starring nominee Richard Madden), FX's flamboyant Pose (featuring nominee Billy Porter) and BBC America's provocative Killing Eve, starring Globes co-host Sandra Oh (also a nominee, an honor she should be sharing with co-star Jodie Comer). Notably missing: last year's drama winner, Hulu's The Handmaid's Tale (though Elisabeth Moss and Yvonne Strahovski were justifiably nominated).
Last year's delightful comedy winner, Amazon's The Marvelous Mrs. Maisel, is back in contention with three nominations (including for 2018 winner Rachel Brosnahan and supporting Emmy winner Alex Borstein). Maisel is competing against a field of fresh choices—including a surprise, and well-deserved, first nod to NBC's cult comedy The Good Place—and first-year series Barry (HBO), starring nominees Bill Hader and Henry Winkler; Kidding (Showtime), starring nominee Jim Carrey; and The Kominsky Method (Netflix), which earned bids for the wonderful performances of its veteran stars, Michael Douglas and Alan Arkin. Notably missing: 2016 comedy winner Atlanta from FX (although star/auteur Donald Glover did earn a nomination).
Notice another trend? With the exception of The Good Place, no broadcast network series is nominated for best drama or comedy series. (The only network stars nominated anywhere are Good Place's Kristen Bell, Murphy Brown's Candice Bergen and Will & Grace's Debra Messing in the lead comedy actress category.)
Dominating the limited-series/movie field is Ryan Murphy's blistering The Assassination of Gianni Versace: American Crime Story from FX with four nominations, the most for any TV project. Emmy-winning star Darren Criss was nominated for his breakthrough dramatic turn as serial killer Andrew Cunanan, joined by nods for co-stars Edgar Ramirez and Penelope Cruz as fashionista siblings Gianni and Donatella Versace.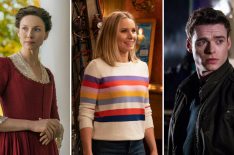 See Also
'Outlander,' 'The Good Place,' 'Bodyguard' and more were among the welcome TV surprises.
Front-runner Versace's competition includes Showtime's Escape at Dannemora (starring nominee Patricia Arquette), HBO's Sharp Objects (with nominees Amy Adams and Patricia Clarkson), Amazon's A Very English Scandal (starring nominees Hugh Grant and Ben Whishaw) and TNT's snooze-inducing The Alienist, a slot that should have gone to either Showtime's Patrick Melrose (starring nominee Benedict Cumberbatch) or National Geographic's Genius: Picasso (starring nominee Antonio Banderas). One shocker: Alienist star Daniel Brühl somehow edged out Escape's mesmerizing Benicio Del Toro.
In perhaps the most unexpected nomination, Sacha Baron Cohen received a comedy actor bid for his multi-disguise political prank show Who Is America? on Showtime—whereas unlike at the Emmys, NBC's topical Saturday Night Live is all but invisible at the Globes.
No telling how the winds will blow when the actual votes are cast. We'll all find out when the 76th annual Golden Globes Awards, co-hosted by Sandra Oh and Brooklyn Nine-Nine's Andy Samberg (a 2013 winner), airs on NBC Jan. 6.