3 Tips to Help You Get More From Your Holiday TV Viewing
Tip No. 1
Stream your Yule Log this year.
Netflix, Amazon Prime Video and Hulu each have a multitude of options (just enter "Yule Log" in the search bar). Or, for something different, check out the 2014 Outlander Yule Log (available on the Starz app under Outlander "Extras") for snuggling with your Sassenach.
See Also
Plus, learn how designers helped bring Jamie and Claire to America.
Tip No. 2
Don't want to watch Elf for the 50th time? New original flicks air every Saturday and Sunday through December 29 on Hallmark Channel (8/7c) and December 23 on Hallmark Movies & Mysteries (9/8c).
See Also
Whether the flick is new this year or one of their throwback classics, these festive rom-coms are all the same at their core.
Tip No. 3
Don't miss Happy Days' first holiday episode airing on MeTV and CBS All Access on Sunday, Dec. 16 at 5/4c, and also dig in to the secrets of Hallmark Channel's movies.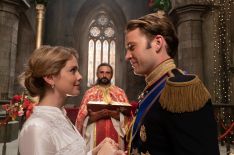 See Also
Including those from Lifetime, Freeform, Hallmark, and everything in-between.