Natalie Morales on Directing & Starring in 'Room 104' and Reuniting With Mike Schur for 'Abby's'
Natalie Morales has been making the TV rounds for some time now — most notably as Tom Haverford's (Aziz Ansari) girlfriend Lucy in Parks and Recreation and nosy neighbor cop Anne in Netflix's Santa Clarita Diet.
Now, Morales is making a splash in HBO's Room 104 as she's set to appear in and direct multiple episodes. The actress is also making TV history as the first Cuban-American woman to lead a TV series with her upcoming NBC sitcom Abby's (expected in 2019). Plus, her character will be the first bisexual lead on network TV! Still, Abby's isn't defined by these statistics. Instead, it's simply a comedy featuring a group of everyday individuals.
We spoke with Morales about her upcoming projects including what it was like collaborating with the Duplass brothers in Room 104 and what people can expect from Abby's. Plus, we got some hints for Santa Clarita Diet Season 3. Read on below!
Room 104 is a pretty quirky series. What drew you to the second season?
Natalie Morales: I've always been a fan of the Duplass brothers. They're so great in what they do and it's so different… so I've always admired them. Mark had seen some of the stuff that I had directed so he asked me to direct an episode and, of course, I was overjoyed. To do this episode on HBO, I had to join the [Directors Guild of America]. The class of new directors was about 15 people and six of them were brand new directors just for Room 104.
So [the Duplass brothers] have been giving opportunities to people – mostly women, too – and I think that that is really amazing. I love being involved in whatever it is that they do.
After this experience can we expect to see you behind the camera again anytime soon?
Oh, yeah definitely! I direct all the time, and it's something that I really, really love doing. I've been doing it for a while, but this time on Room 104 was the biggest crew I'd ever had – you know, like a legitimate crew on an HBO show. That show specifically was so wonderful because the crew behind it is incredible. And while I was directing it, they were like, 'Hey, do you maybe want to act in one too?,' I was like, 'Yes, absolutely.' So it was really fun.
You appear in the episode "A Nightmare" and direct "Artificial", how did those varying experiences differ?
One of the things that actually makes it difficult but is a fun challenge for sure, is that because [the show is filmed] all in one space, they don't use as much time to direct it. So, I directed my episode in two days, and my episode involved certain stunts and special effects and a lot of monologues and a lot of camera moves, so it was certainly very difficult to do that in that amount of time.
The episode that I acted in got three days to do it in because that was a clusterf**k in many ways [Laughs]. As far as keeping track of what was going on it was certainly a little bit more challenging to set up, so they did an extra day for that. I think one of the funner things about it is when I directed it I got know the crew really well… there's no way they could do it in two days without that crew.
It's apparent that you helm one of the most unique episodes of the season – what was the collaborative process like? Did you have any input?
Mark [Duplass] wrote it and I think Mark's an amazing writer so I wanted to tell the story that he wrote in the way that I thought was best. So, my job there is just to really bring whatever's on that page to life. I certainly chose a situation of how we portrayed it, but I didn't have input — and I didn't want necessarily input — on changing the story around.
You'll be starring in NBC's Abby's, what can you tease us about the series?
Abby's is executive produced by Mike Schur who created Parks and Recreation and The Good Place, which are two of my favorite shows. I literally will do anything Mike Schur wants me to do for the rest of my life – I think he's so brilliant and so funny. And it was created by Josh Malmuth who wrote on Superstore and was a playwright before.
My name is Abby in the show, I play a woman who owns an illegal bar in the backyard of her house. It's sort of like a neighborhood speakeasy, and a thing that's very interesting about it is that they built a bar set in the backyard of one of the houses on Wisteria Lane at Universal Studios on the Desperate Housewives street.
So, we shoot the entire thing outdoors with an audience. So it's very much like we're doing Shakespeare in the Park or Greek Theater and it's very fun, I mean sometimes it does get cold and sometimes do have to pause for a helicopter or two but it's really fun.
You're the first Cuban-American woman to lead a network series and the first person to lead a show as a bisexual character, how does it feel to be making TV history?
It feels incredible. When I was a kid and I was watching Saturday Night Live, and all the other amazing shows that were on NBC, I always was like, 'oh, that's the tops,' you know, 'if you wanna do comedy that show on NBC is where you've gotta be.' And I literally pinched myself – I can't believe it.
I can't believe people trusted me with it, but I think I did a good job and I'm really proud of it and proud of what we did. What we're trying to do, and definitely what all Mike Schur shows have that they've succeeded highly in is there's a core group of people you feel like you're friends with.
The fact that I'm Cuban and the fact that the character is bisexual are just one of many things about her and not the thing of the show which is what I've always tried to do my whole career. I never wanted to be the Latina on the show, I just wanted to be the person on the show because as much as we need representation… It's annoying from my perspective to have it always just be about what we are or put us in some sort of peril due to our otherness.
The show reunites you with Michael Schur, who worked with you on Parks and Rec. How was that?
It was awesome. I didn't know much about this show when I auditioned for it because there wasn't a lot out there but I was like, 'Mike Schur's doing it, I need to get it, I need to do it.' I worked my ass off, auditioned for it and then auditioned for it again. He's so smart, he makes the comedy I wish my brain would think of. And he's such a really wonderful person to watch lead, because it's always fun.
You're hilarious in Santa Clarita Diet, what can you share about Season 3?
I think the only thing I can share is that I will be back for this third season but I don't think I can share much more. But I also can tell you it's gonna be bananas as it usually is and it's so good. I love that cast of people.
Reboots and revivals are a big craze right now, would you ever consider returning to one of your prior TV roles if asked? Any you think would work in today's landscape?
People always ask me about a Middleman (2008) reboot, and I definitely think The Middleman would've been more successful in the age of Twitter for sure. We were only aired once, never repeated, and we were before and after The 700 Club, so not great lead-ins. The crazy thing is that despite all of that people still saw the show and it developed a cult following of who started sharing the DVD and we're not even on Netflix.
What I like about this business also is moving forward and I don't love the idea of like continuing to rehash old ideas, there's so much more out there, why be lazy? I understand that there are beloved things… I also like to look forward.
You're part of the Netflix family with BoJack Horseman and Santa Clarita Diet, are there any shows you're loving or binging right now?
I obviously love Big Mouth as everybody else does. Big Mouth is so good and so funny. I try not to sit and binge unless I'm sick, but I've also been working like crazy… I loved Killing Eve, I love mystery shows so that was really fun.
Room 104, "A Nightmare," Friday, November 30, 11:30/10:30c, HBO
Room 104, "Artificial," Friday, December 7, 11:30/10:30c, HBO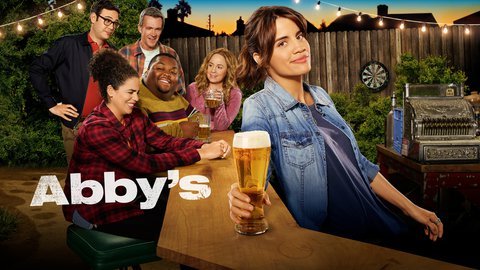 Abby's
where to stream