Who Is the Highest-Paid Host on TV in 2018?
Court is now in order!
This year, Judge Judy star Judy Sheindlin became the highest-paid TV host for the first time ever, according to the latest annual ranking of TV host incomes put together by Forbes. She reportedly made a staggering $147 million pre-tax last year. The number comes from two things. First, there is her salary for hosting Judge Judy and producing Hot Bench ($47 million).
Additionally, Sheindlin signed a very lucrative deal with CBS in which she sold the syndication rights to Judge Judy's 5,000+ library of episodes and the rights to future episodes of the show, for $100 million.
Ellen DeGeneres came in second on Forbes' list with an estimated $87.5 million. Her earnings are from her show, producing, and the deal for her upcoming Netflix stand-up special.
Third is Dr. Phil McGraw, who earned $77.5 million. He, of course, has his Dr. Phil talk show, which he hosts and executive-produces. He also EPs the CBS drama Bull, The Doctors, and Daily Mail TV.
Number four is Ryan Seacrest. He made $74 million from his many projects including hosting American Idol and co-hosting Live with Kelly & Ryan.
Rounding out the Top 5 is Steve Harvey, with $44 million, from his daytime show and various other hosting gigs like Miss America.
Dinner is on them!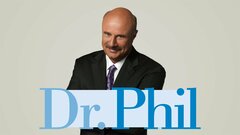 Powered by