'Arrow's John Barrowman Gives a Hands-On Preview of Malcolm's New Look (VIDEO)
Raise your hand if you were shocked by Malcolm Meryln's fate in the February 10 episode of Arrow. The onetime Dark Archer lost his left hand (and, with it, the title of Ra's al Ghul) in a battle with Oliver Queen in "Sins of the Father."
RELATED: Why Malcolm Merlyn Had to Lose a Hand
Now, in Tuesday's episode of the web series DC All Access, actor John Barrowman explains what this means for Malcolm. "How am I gonna hold a bow? How am I gonna shoot an arrow?" he says to Tiffany Smith, host of the DC Comics web series. "The challenge is for him to still have his manipulative control, but he only has one hand. He's gotta figure out a whole new direction."
And in this exclusive outtake, Barrowman talks about the challenges this is bringing to the Arrow wardrobe department. "I look like I'm lopsided," he jokes.
[jwplatform 0TDgBFCH]
Also in the episode, Barrowman offers some behind-the-scenes insight into the Dark Archer comic he's writing for DC with his sister. Check it out here:
New episodes of DC All Access go live weekdays via DCComics.com.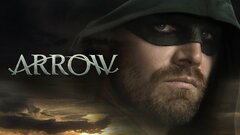 Arrow
where to stream
Powered by