The Secret Past of 'Arrow's Malcolm Merlyn Revealed in New DC Comics Series
The secret life of Malcolm Merlyn is about to be exposed. Next week, DC Comics is launching a digital comic series that explores the past of the charmingly devious character played by John Barrowman on The CW's superhero saga Arrow.
Written by Barrowman and his sister Carole, Arrow: The Dark Archer, is set between the third and fourth seasons of the TV series, but also reveals what Malcolm was up to before he became the Dark Archer, the nemesis to Oliver Queen (Stephen Amell) early in the series. Twelve chapters will be released bi-weekly starting Wednesday, Jan. 13 (available via the DC Comics App, readdcentertainment.com, iBooks, comixology.com, Google Play, Kindle Store, Nook Store, and iVerse ComicsPlus). The entire story will later be collected in single print edition.
To find out more about the series, we sent some questions to the Barrowmans, who have long collaborated as writers.
How did you get involved with this project?
John Barrowman: Arrow: The Dark Archer began with a pitch for an entirely different comic. My sister and I are both comic fans and a couple of years ago we came across a description of a team of DC superheroes from the 1950s that have been lost to history. We came up with a story to update them into a contemporary series. I went to Geoff Johns, chief creative officer at DC Comics, and pitched the idea to his team. While we were chatting, I mentioned Carole and I would love to write Malcolm's backstory too. Geoff knew Carole and I had written a number of things together…
Carole Barrowman: Six books, a couple of screenplays, but who's counting?
John Barrowman: Obviously you are.
Carole Barrowman: Oh, shut up.
John Barrowman: After we got the go ahead from Geoff, we researched what had already been written about Malcolm Merlyn.
Carole Barrowman: And there wasn't very much. We discovered he didn't have much of a backstory except for a couple of intriguing details. Like the fact that…
John Barrowman: Don't say it!
Carole Barrowman: Let's just say that Malcolm has had at least one other identity and his slightly vague and sinister past gave us lots of creative room to play around in.
John Barrowman: Marc Guggenheim and Andrew Kreisberg, Arrow's executive producers, got involved at that point to make sure our ideas would work within the series' canon. We've kept it all in the family.
Carole Barrowman: Actually, the real truth is that we wanted to be DC writers so badly that John begged and begged and whined and whined until Geoff, Marc and Andrew broke down and said yes.
John Barrowman: I also now carry all their coffees when they're on set…
What is the story you are telling in this series?
John Barroman: It's Malcolm's backstory. It opens between Seasons 3 and 4 of the TV show and then we flashback. Readers will learn about a younger Malcolm and how his past is… well, killing him.
Carole Barrowman: It's set in places familiar to Arrow and DC fans like Corto Maltese and Nanda Parbat, but readers will see those places from quite different perspectives. Fans will also learn who Malcolm was before he met Rebecca, the love of his life.
John Barrowman: Since the show started, I've always been curious how Malcolm made his fortune. Where did his wealth come from? How did he finance his Merlyn Global Group? The answer to those questions shapes the main narrative in the story.
Carole Barrowman: But more personal events shape the secondary arcs.
John Barrowman: And Malcolm has sex!
Carole Barrowman: Ha, yes he does!
You have collaborated as writing partners before. How did this experience compare to past projects?
Carole Barrowman: Working with my wee brother is always an "experience."
John Barrowman: She bosses me around.
Carole Barrowman: Yeah, that happens… never.
John Barrowman: Seriously, I think this project carried more responsibility for us because of the canon we were building on, but it also has to be one of the coolest things we've done together. After we got the go ahead Carole was in Milwaukee, where she teaches at Alverno College, and I was filming the show in Vancouver and every few hours we'd text each other: "DC! DC!"
Some actors talk about creating their own backstory for their characters in their head, beyond what's in the script. John, did you ever do that with Malcolm and, if so, does any of that find it's way into this comic?
John Barrowman: I've had a backstory in my head for Malcolm from the beginning and a lot of it has made its way into our comic and onto the screen. I think it's always been my job to help the audience relate to Malcolm in some way despite his questionable morals and evil ways.
Carole Barrowman: You've always been heavily involved with fleshing out parts of Malcolm's backstory on screen. Think about Thea.
John Barrowman: That's right! During a lunch with Andrew before filming Season 2 I mentioned that Scott, my husband, and I thought that one of the reasons Malcolm has such an affection for Oliver and his team is because Malcolm is actually Thea's father. Sometimes when I'm on screen and any of the other characters are in the background, I like to think I'm sharing a kind of "nod and a wink" with the audience, that they know some things about Malcolm that the rest of the team do not.
Carole Barrowman: I think The Dark Archer honors that relationship with the audience. We've also been able to let Malcolm's snarky sense of humor come through much more in our story.
John Barrowman: And Malcolm has sex!
What can we expect from this series on the art side?
Carole Barrowman: Daniel Sampere is leading our artistic team and has been amazing. Daniel has captured John's likeness as Malcolm right down to John's cleft chin. The action scenes—
John Barroman: There are a lot of them!
Carole Barrowman: —have so much energy and movement.
John Barrowman: There's also a mystery unfolding across both narratives that meant the background detail needed to be precise from the first chapter. So pay attention! Also because of the nature of the settings in present day and in the flashbacks, particular tone and hues were critical.
Carole Barrowman: The first page alone is a stunning splash panel of Malcolm getting…
John Barrowman: Shush!
Carole Barrowman: You shush… Let's just say that we took Malcolm's classic line to Thea that "pain is inevitable, but suffering is optional" and gave it a new twist.
John Barrowman: Ouch!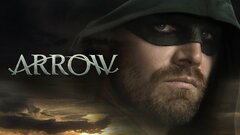 Arrow
where to stream
Powered by