Kara Is Imprisoned in New Arrowverse 'Elseworlds' Crossover Teaser (VIDEO)
The latest promo for The CW's upcoming Arrowverse "Elseworlds" crossover event is stressing fans out!
In this one, we see Kara/Supergirl (Melissa Benoist) locked up in the pipeline by none other than her sister, Alex (Chyler Leigh), who seems to have no remorse for her actions.
See Also
The Green Arrow is now The Flash?!
"You are as despicable as they come, you are dangerous, and you are clearly crazy," Alex says.
Dr. John Deegan (Jeremy Davies), who is the baddie rewriting everyone's reality, is wreaking havoc for these DC superheroes. A previous promo (see above) had another example of this, showing that Oliver (Stephen Amell) and Barry (Grant Gustin) have switched lives — with kisses from Iris included.
Watch the new Supergirl Elseworlds promo below:
Arrowverse "Elseworlds" Three-Night Crossover Event:
The Flash, Sunday, December 9, 8/7c, The CW
Arrow, Monday, December 10, 8/7c, The CW
Supergirl, Tuesday, December 11, 8/7c, The CW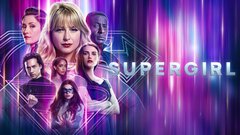 Powered by