'The Neighborhood' Thanksgiving: Marilu Henner & Max Greenfield on Dave's Politically Incorrect Mom
The relationship between the Butlers and Johnsons continues to improve on The Neighborhood, but a wrench will be thrown into that progress this week when Dave's (Max Greenfield) mom Paula, played by guest star Marilu Henner, makes a surprise Thanksgiving visit.
In November 19's "Welcome to Thanksgiving," Henner's character tells her son that she's coming from Michigan to celebrate the holiday, which presents an issue for Dave: Paula has a flair for the politically incorrect, something that won't fly with his other Turkey Day guests, the Butlers.
"She's a real Midwest mom," Henner tells TV Insider of her character. The Chicago native adds, "I was excited to use my Great Lakes accent."
The actress, who hit it big with her sitcom Taxi in the '70s and '80s, is no stranger to the genre and quickly identified Paula's personality. "I kept describing her as a combination of Archie Bunker (All in the Family) and Sue Ann Nivens (Mary Tyler Moore)," she quips.
For the multi-cam sitcom, Henner was excited to take on a new type of role. "This character is so funny and so different than the kinds of characters I usually [play]," she says. And her on-screen son Max Greenfield tells us he was more than happy to see Henner at work.
"I was very very excited," he says of getting to work with the TV icon. "I always love when multi-cam sitcoms will utilize legends of that genre and bring them back as important characters in newer shows. So, to have Marilu — obviously from Taxi, which is one of the greatest sitcoms of all time — come on was just about as good as it gets."
And the experience was just as great for Henner, who got to observe the new show's cast at work. "Once in a while you get this little gem of a role and a company and an experience that's just so special and that's how that felt. It had that Taxi vibe to it that I just loved, where everybody was on the same page and you could tell the entire cast just adores one another."
With that behind-the-scenes harmony comes the kind of on-screen discord fans have come to expect from the CBS series. "When you get it right and you feel really confident about what you end up with at the end of the week, it's such a rewarding feeling and a bonding one as well," Greenfield says of the social conversations that set the stage each week on the sitcom. "This is the strongest example of one of those episodes."
There's a lot going on in the episode, but the biggest is the conflict over Dave and Paula's differing political views. "She probably is, in her own way, racist — whether it's intentional or not," Greenfield notes.
But the episode isn't about painting Paula's character as a bad person. "You can laugh at it, so it's not so heavy-handed that you can't talk about it," Henner explains.
The Neighborhood, "Welcome to Thanksgiving," Monday, November 19, 8/7c, CBS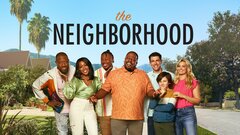 Powered by