'New Amsterdam's Ryan Eggold on Max & Dr. Sharpe's 'Unique Friendship'
Dr. Max Goodwin (Ryan Eggold) has been doing battle with both hospital administrators and throat cancer all season. In the fall finale of New Amsterdam, the innovative, disruptive medical director and oncologist Dr. Helen Sharpe (Freema Agyeman) face the risks involved with enrolling him in a clinical trial.
We chatted with The Blacklist vet Eggold (above, with Andrea Syglowski) about his role on one of fall's top new dramas.
See Also
Get your tissues ready for an emotional episode.
Where do Max's idealism and drive come from?
Ryan Eggold: A lot of it has to do with losing his sister Luna [to a hospital-acquired infection] at a young age. Seeing the doctors fail to save her and struggling to comprehend why left a lasting desire to never let that happen [to anyone else].
What has been his biggest challenge so far this season?
Max has a tendency to hide in his work, busy himself with so much that he doesn't have time to sit still and be alone with himself. That's something he'll have to start dealing with.
See Also
'Manifest,' 'Magnum P.I.,' and 'Singe Parents' are all in the clear so far.
Why does Max trust Sharpe with the secret of his illness and treatment?
She's [the hospital's] oncologist, and I think that's where their relationship began logically. They seem to have developed a unique friendship. Perhaps because Max shared his secret with her, she's felt safe to share her secrets, and a kind of intimacy was born from that.
Max and Sharpe are trying to get him into a clinical trial. What are the potential consequences?
It will certainly be a fight for his life. Max has to discover how to be a patient. Most important, I hope we can paint a relatively accurate portrait of the struggles of dealing with a disease that affects so many people today and is so devastating. Though we are making positive strides to deal with cancer, it's that glimmer of hope that the show is about.
New Amsterdam, Tuesdays, 10/9c, NBC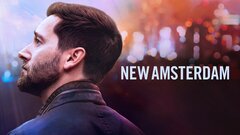 Powered by