Is This Proof That 'Stranger Things' Is Coming to an End? (PHOTOS)
It's been over a year since we last saw the beloved characters of Netflix's hit Stranger Things, and while Season 3's recent wrap is a promising sign of soon-to-come episodes, some of the stars' social media posts have us worried.
Actor Finn Wolfhard's recent Instagram post, revealing a fresh haircut and dye job, suggests he could be moving on from the role of Hawkins preteen Mike Wheeler. "Spy Kids 3-D: Game Over," Wolfhard captioned the selfie featuring his purple-tinged locks.
View this post on Instagram
But Wolfhard's not the only one hinting at the end — fellow star Millie Bobby Brown has also taken to social media in the past few days to lament the show's Season 3 (or series?) wrap.
See Also
The Netflix series is gearing up for Season 3.
The young starlet shared a number of posts on her Instagram page, including photos with fellow stars Noah Schnapp and Sadie Sink. The captions read: "one more time" and "thats a wrap."
View this post on Instagram
The most recent post made by Brown though indicates a lingering sadness that could mean it's really over. "As we said goodbye, I gave my best friend the biggest hug and told her I loved her so much. My sister forever @sadiesink_," she writes alongside a pic of the two actresses.
While these sure make it seem like the series is ending, the powers that be had previously said that Stranger Things would go on for at least four seasons. "Don't drop your Eggos. Rumors that the Duffer Bros are leaving Stranger Things after season 3 are false," a tweet from Netflix confirmed after rumors of the showrunners exiting began earlier this year.
Don't drop your Eggos. Rumors that the Duffer Bros are leaving Stranger Things after season 3 are false. pic.twitter.com/x4kbL9990e

— Netflix US (@netflix) February 20, 2018
And David Harbour recently backed up the idea of the show going on for more episodes, telling CNET, "We're either going to season 4 or season 5. It's still being debated. I do know the arc of the story, though. This was something that I discussed with the Duffer brothers right from day one."
"I feel very proud of that because we're not going to get lost in our story and leave these strands. We're going to tie things up," he concluded.
See Also
Plus, she talks re-teaming with 'Mad Men' collaborator Matt Weiner.
That was as recent as November 13, so we're cautiously optimistic about the show's future. And since the series usually takes long breaks between production, this case of wrap blues may just be over the tight-knit group being separated for a while.
Of course, with the quickly-aging cast, it may have been prudent for Seasons 3 and 4 to be filmed back-to-back. Until more details about Season 3's release are revealed, the true mystery surrounding these posts will remain unsolved.
Stranger Things, Season 3, Coming 2019, Netflix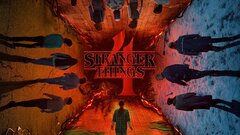 Powered by