'Will & Grace' Sneak Peek: Is Noah Really Cheating on Grace? (VIDEO)
Let's get ready to rumble!
Only on NBC's long-running sitcom Will & Grace could an argument break out over the merits of the classic Hollywood musical, West Side Story. But that's exactly what happens when Will (Eric McCormack) finds out that Grace's (Debra Messing) current boyfriend, Noah (guest star David Schwimmer), doesn't like the acclaimed film based on the Broadway show.
See Also
What's next for Karen after she splits from never-seen-husband Stan?
In fact, Noah has specific complaints about the film — he thinks Natalie Wood — who plays Maria — was miscast and says tough guy Tony (Richard Beymer) is "distractingly gay." But Will won't stand for any of his criticisms, defending the film to its end.
How far will their argument escalate? Well, after they hilariously snap their way through the dispute, Will leaves the room and Noah takes a phone call, which seems to be from (gasp!) another woman. Is there going to be a real reason to rumble?
Will & Grace, Thursdays, 9/8c, NBC.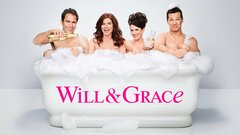 Powered by