'Will & Grace' Guest Star David Schwimmer Teases His New Character
Has it really been 14 years?
David Schwimmer, aka lovable, hangdog Ross Geller, shot his last Friends episode in 2004, and now Will & Grace has lured him back in front of a studio audience. The two-time Emmy nominee — who has been busy with TV drama (The People v. O.J. Simpson: American Crime Story), movies (the Madagascar franchise) and theater (as writer, actor and director) — returns to romance unlucky-in-love Grace Adler (Debra Messing).
See Also
The cavalcade of guest stars on the NBC hit continues. But which one will be romancing Will Truman?
And for his first day on the sitcom's set, a warm welcome was assured: "I know the cast, the writers, [director] Jimmy Burrows [who also helmed many Friends episodes]," he says, "and the whole camera crew is actually from Friends!"
But the good vibes remain off camera, to start anyway, since Schwimmer's cantankerous divorced writer, Noah Broader, is a far cry from Ross. "Noah's got a bit of notoriety with his Twitter handle, @thewestsidecurmudgeon," Schwimmer says with a laugh. "He's unfiltered, unapologetic, griping about politics and the world. He's probably a combo platter of Marc Maron, Bill Maher and Fran Lebowitz."
When Noah targets Grace on Twitter during her campaign for New York Society of Interior Designers president, she takes offense and seeks him out. Eventually, sparks do the obligatory flying.
"She's formidable, and he recognizes that," says executive producer David Kohan, who, along with fellow executive producer Max Mutchnick, went to Beverly Hills High School with Schwimmer, so they knew their longtime pal could hold his own. "David is one of the few actors you can put with this talent pool and know that he's going to keep up," Kohan says.
Any chance he could stick around past the currently planned five episodes? "It was pitched to me as a short arc, a reluctant love story," Schwimmer says. "I never want to overstay a character's welcome, but if it feels like there's a good, fun, earned story to tell, then we'll see." He should also consider all the bad things that happen when you go on a break!
Will & Grace, Season Premiere, Thursday, Oct. 4, 9/8c, NBC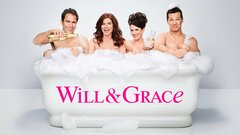 Powered by