What to Expect From Conan O'Brien's 'Leaner' Late-Night Show
Don't expect Conan O'Brien to get political on his revamped, 30-minute late-night TBS show, Conan.
"I feel like [talk shows are] being handled and very well," the 55-year-old TV veteran said during a press event in New York City, moderated by CNN's Jake Tapper, making reference to other late-nighters like Stephen Colbert, John Oliver, and Trevor Noah.
See Also
The podcast will feature some of the biggest names in entertainment, music, comedy, and literature.
Conan returns in 2019 with fresh take on comedy. His show will sadly lose its band but will also "bring the audience in a little closer," as O'Brien hopes to keep the segments "loose" and "playful."
"I prefer 'smaller cookie, more chocolate chips,'" he joked.
Ideally, O'Brien will film more content than his 22-minute show can air, so fans can enjoy bonus material online and on social media, such as him interacting with the audience and his staff behind the scenes.
He pointed out that he wants to expand what he's good at — informally talking to people, making silly jokes, and "[creating] organic moments with guests" — noting that a live audience knows when something feels rehearsed and over-produced. He want fans to "see [him] have fun" because that keeps them engaged.
Starting off with a monologue, bringing on two or three guests, and then reminding viewers to watch tomorrow "doesn't make sense any more" as a format.
"This isn't something I try to do to make people happy; it's a natural extension of who I am," he said. After 25 successful years in the business, who can argue with that?
Conan, January 2019, TBS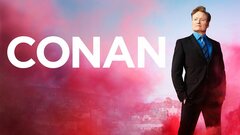 Conan
where to stream
Powered by