What's Next After the 'Modern Family' Pregnancy Bomb? Plus, Fans React
The latest Modern Family episode dropped a major bomb for the Season as it was revealed that eldest Dunphy daughter Haley (Sarah Hyland) is expecting.
Throughout the episode "Did the Chicken Cross the Road?" Haley and longtime on-again-off-again beau Dylan (Reid Ewing) tried proving that they could be grown up but ultimately opted out of a stage play for a carnival. While at the carnival riding bumper cars, Dylan bumped into Haley accidentally causing the lipstick she was applying to jam up her nose.
See Also
Could there be a baby on the way for one Dunphy?
During their resulting visit to the ER, a nurse reveals the news much to Haley and Dylan's shock. "Why wouldn't you want to enjoy a carefree life as long as you could?" Haley said, referring to her earlier worries about wanting to lead a more "adult" life.
"At least until the baby comes," the nurse responded.
"Oh, that's years away. Trust me," Haley answered unknowingly.
When the nurse clarified she's pregnant, Haley and Dylan were left speechless and fans left hanging. Until the next episode, viewers won't know how they go on to reveal the news to the rest of the Dunphy/Pritchett clan. However, Hyland revealed she knew about the storyline prior to Season 10.
Before the episode aired, Hyland hinted at what was to come calling it a "BUMPY ride," on Instagram.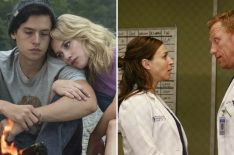 See Also
Pairs from shows like 'Riverdale,' 'Modern Family,' and 'Grey's Anatomy.'
After the episode aired, Hyland took to her Instagram stories to answer fan questions in which she revealed that she knew about the big secret "before the season started. But. I had zero information on details!"
The actress later went on to share a photo of her trying on a prosthetic pregnancy belly, captioning the image, "Well I guess the cat's outta the bag!!! Or more like the bump's outta the shirt!….. that was a horrible joke. I apologize."
See Also
Including a guest role by 'Schitt's Creek' star Dan Levy.
Hyland wasn't the only one responding to the episode though, many fans voiced their stance on social media — and not all of them were happy. Many expressed their frustration over wanting Haley's other ex Andy (Adam Devine) to return. Below find some of those reactions.
Fans: omg please bring Andy back, we want Haley and Andy please!
Modern Family: lmao what? Can't hear you over Haley being pregnant with not-Andy's baby #ModernFamily

— Arwen Primo (@arwensthoughtss) November 8, 2018
Ok, so next week's episode of #modernfamily is going to reveal that Haley & Andy have been secretly seeing each other and he is the baby daddy… cuz I can't accept it any other way!

— dcb (@melita_snow) November 8, 2018
#ModernFamily please let the baby daddy be Arvin or Andy. I don't like Haley reverting back to HS Haley and getting back together with Dylan. He's so damn dumb.

— Elizabeth Farrar (@LizFarrar84) November 8, 2018
#ModernFamily I'm so excited that Haley is pregnant! I really hope we get to see all the family members reactions to the news 😂

— Albi (@Albimyself) November 8, 2018
Woah! #ModernFamily pic.twitter.com/mDsTJs1YIm

— ☃️ Joe Schiavi 🎅🏻 (@ScoundrelPrez) November 8, 2018
@Sarah_Hyland my reaction to the ending of tonight's #ModernFamily pic.twitter.com/8h0IcRvb51

— Shawn O'Keefe (@ShawnOkeefe68) November 8, 2018
#modernfamily Having Alex be the one that got pregnant would of been way more interesting. pic.twitter.com/DPwX11pdTf

— jayjay (@jayjay582) November 8, 2018
Claire is going to freak out #modernfamily pic.twitter.com/nqSMtNCezU

— Sporadically Rude (@nosympathy82) November 8, 2018
So what do you think about Haley's news? Let us know in the poll below.
Modern Family, Wednesdays, 9/8c, ABC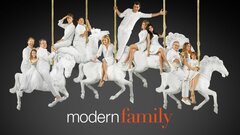 Powered by