Why That SAMCRO Prospect in the 'Mayans M.C.' Finale Looked So Familiar — He's Jack Nicholson's Son
Mayans M.C.'s Season 1 finale wrapped up with some huge surprises.
Not only did EZ (JD Pardo) recognize the man who murdered his mother, which ultimately led to his time in prison — Surprise! It was Sons of Anarchy character Happy Lowman, played by David Labrava — but in a stunning move, "El Padrino" a.k.a. Marcus Alvarez (Emilio Rivera) gave up his kutte to work for Miguel Galindo (Danny Pino) and his cartel (who are now partners with Adelita and her kid terrorists).
See Also
If only Jax Teller would come back to life!
At the end of the episode, fans also got to meet a new SAMCRO prospect, and you might have recognized him: He's Ray Nicholson, the son of Oscar-winning actor Jack Nicholson. Although his character didn't have a name in the show, he did have a couple of lines.
His character asks EZ if there are any other brands of beer available for his sponsor. "My sponsor wants a Heini or a Miller," he says.
Mayans creator Kurt Sutter revealed to Entertainment Weekly that he's mentoring the young actor.
"He's such a sweet kid who's a really good actor. And it was so fun for him. He doesn't know the world, right?" Sutter said. "I think it was more about the experience of putting on that kutte and hanging out with those guys for a night. It was just an education for him."
Sutter also teased that Nicholson's character may be around for Season 2.
Mayans M.C. will return in 2019.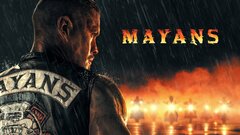 Powered by