A 'Riverdale' Flashback, a 'Survivor' Merge, 'Sunny' Pride Finale
A critical checklist of notable Wednesday TV:
Riverdale (8/7c, The CW): The Archie gang looks back to the 1990s in a special flashback episode in which each of the core cast plays a younger version of their parents. (KJ Apa, who plays Archie, is especially believable as a 90210­era Luke Perry.) Back in the day, they all bonded while spending Saturdays in detention — and the Breakfast Club parallels don't stop there. Brat Pack veteran Anthony Michael Hall guest-stars as Riverdale High's former principal, supervising the shut-ins but giving them enough latitude to discover the pitfalls of the mysterious Gryphons and Gargoyles role-playing game that has factored so heavily into this season's mystery.
See Also
Get ready for some '90s fashion! See the actor channel dad Mark Consuelos on-screen.
Survivor (8/7c, CBS): It's time for the merge, with the "David" and "Goliath" tribes almost evenly split — a slight advantage, as usual, goes to the alpha "Goliaths," but new alliances could continue to shift the power balance in what is shaping up to be a strong season. Perhaps the biggest question is whether rejuvenated nerd Christian's bond with his macho "brochachos" will hold up now that the Goliaths have reunited.
See Also
Mark Burnett and Jeff Probst weighed in recently.
It's Always Sunny in Philadelphia (10/9c, FXX): Are we to accept Mac's (Rob McElhenney) coming out as a gay man with a (so to speak) straight face? It's still unclear as the beyond-irreverent comedy ends its 13th season with Mac declaring, "I don't know where I fit in as a gay man" as Philly's Gay Pride Parade approaches, and he declines an invitation to cavort atop Paddy's Pub's flamboyant float. Frank (Danny DeVito), whose busted nose leads to sight gags that are grotesque even by this show's loose standards, decides to help Mac "find your pride," which includes visits to several gay bars and culminates in a prison visit to Mac's dad (Bosch's Gregory Scott Cummins) and a climactic contemporary dance number that feels more like an outtake from So You Think You Can Dance. It's just bizarre.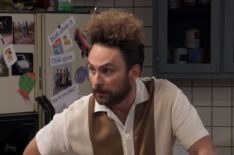 See Also
The gang went '90s for the throwback scene.
Inside Wednesday TV: An emotionally charged installment of PBS' Nova explores the fate of the "Last B-24" (9/8c, check local listings at pbs.org). It's the story of a WWII bomber known as the Tulsamerican (the last of its type built in Tulsa, Oklahoma), which went down in December 1944 in the waters off Croatia, with three crew members never found. After the wreckage is discovered some 70 years later, Nova tracks the efforts of the U.S. Department of Defense, the Croatian Navy and technical experts to excavate the aircraft in hopes of identifying the missing airmen and bring them home… Pop TV looks more like The CW as it imports the flashy-trashy British thriller Clique (10/9c) with a two-hour premiere. The six-part series follows a posse of gossipy party girls in an Edinburgh university who go to the dark side when their economics professor offers internships at a sinister corporation.