'The Romanoffs': Radha Mitchell's Talks Her 'Meditative' Episode 'Panorama'
Ready to venture to Mexico City?
In this week's installment of Amazon Prime Video's anthology series The Romanoffs, entitled "Panorama," a reporter (Juan Pablo Castañeda) unexpectedly falls for a mysterious subject when he crosses paths with a mother (Radha Mitchell) and her ill son (Luke Bonenfant). The episode premieres Friday, November 9 on the streaming service.
See Also
She plays an actress who starts to question her reality in the series' third episode.
The first season of The Romanoffs features eight separate stories, each with its own distinct location, tone and cast with the one through-line being someone in each episode is (or believes to be) a descendant of the infamous Russian royal family. Previous episodes, all available on Prime, feature Corey Stoll, Andrew Rannells, Christina Hendricks, John Slattery, Aaron Eckhart and many more familiar faces.
Mitchell talked to TV Insider about the "Panorama" episode as well as her upcoming film, Celeste.
What was your first impression of the episode once you read the script?
Radha Mitchell: My first impression of the episode when I read the script was that it was something topical, very much in the zeitgeist, but also very poetic. Something kind of beautiful. I was very excited about it.
Matt Weiner told me how much he loved being able to shoot so much on location for the show. How did that benefit your job acting this role and story?
Shooting in Mexico City, where the episode is set, was very inspiring. The city itself is very much a character in the story. And shooting also with a Mexican crew helped give the story a very clear sense of PLACE. I really love that about this show. It not only takes you to places, but it shows you how everything interconnects. I had actually worked in Mexico City before and already had a taste of its excitement and exuberance, but in this case, and also through this character, I got to examine the artistic and at times brutal political influences that have created the unique Mexican culture. Taking this time to kind of "reflect" definitely affected me personally and you see this also in the character. The city is big, messy and magical. It really gets under your skin.
As a viewer, I really felt for your character and how much she's doing for her son. Did you have time to spend getting to know the actor who played your son to build that connection somewhat?
Luke Bonenfant, the boy who plays my son in this episode is a wonderful, intelligent actor with a great personality and the brain of an encyclopedia. We did go on a trip to an archeological museum in Mexico City. Such a great person to do something like that with because he's so curious and so well read. Luke is pretty amazing actually. He seems to know everything about anything from Formula 1 to ancient Aztec astrology.
See Also
'[The series] is different from what I expected,' says the actor.
There is also a romantic element to the episode with Juan Pablo Castañeda, who ends up being a guide of sorts. How would you describe the connection they make in the episode?
I think there is a very subtle and gentle connection between the two characters. And yet, they affect each other in a very profound way. They shift each other's perspectives on their own lives and they gain a lot of clarity as a consequence. It's very simple and undramatic with bold writing and direction because the episode is very much dependent on the nuance of the performances.
Did you need to know about the other episodes of the series to try to see how your episode fit into the series? Or was that not a concern?
I was not really concerned with the other episodes because I felt this one was so self-contained. But Mathew did focus on certain beats that he wanted to use to link the episodes. We did have an idea about them, but I also enjoyed that there was a bit of mystery.
See Also
'This [episode] is a perfect example of how bad it could get [on set],' he said.
One thing I'm loving about the series is the way you don't really know where the stories are going to go. Were you surprised where the story in your episode went?
Haha! Yes! I love that about the series. It does defy expectation and it does not conform to formula. I found the world the story explores very interesting. The research around the project was fascinating. However, the episode itself is very meditative, it's actually very relaxing to watch. It's very different from the other episodes. Unlike much of what you see on television, the story is not so much about the plot. The actual story is subliminal and it affects you in a very deep way.
Your new movie CELESTE sounds really terrific. Did you shoot that before or after The Romanoffs? What was the level of difficulty (or ease) in shifting from one character to the other?
I shot Celeste just before we shot The Romanoffs. It's a story set in the Australian rainforest. In it I play an Opera singer preparing for her final performance. A very different character, but a story also set in a very powerful location. Far North Queensland is such a lush and beautiful part of Australia and if you don't mind the odd encounter with a crocodile you should definitely visit. I think I killed that Celeste (the character!) by swimming under a tropical waterfall in some idyllic watering hole one afternoon after we wrapped. I know that sounds wacky, but sometimes a little ritual can help you transition out of a certain kind of headspace.
Here's a trailer for The Romanoffs:
The Romanoffs, New Episodes, Fridays, Amazon Prime Video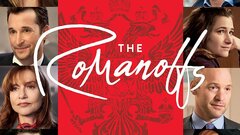 Powered by