'Escape at Dannemora' Director Ben Stiller Calls Filming at Prison 'Amazing and Surreal'
Calm and cool Richard Matt (Benicio Del Toro) has one overriding fantasy in Escape at Dannemora — to get on a horse and gallop toward the open horizon. There's just one catch: He's serving a life sentence for murder at the Clinton Correctional Facility in Dannemora, New York.
Pushed to the edge, Matt finally decides to "forget about the consequences," says Del Toro, setting up his character's great escape in Showtime's seven-part series about the headline-grabbing June 2015 prison break. Matt, a master manipulator, teams with fellow lifer (and convicted murderer) David Sweat (Paul Dano), and together they recruit a dowdy civilian prison worker, Joyce "Tilly" Mitchell (Patricia Arquette), seeking a taste of adventure.
As told in the limited series — based largely on the 170-page official report of the escape and multiweek manhunt from New York State's inspector general, Catherine Leahy Scott (played by Bonnie Hunt) — Mitchell has a relationship with both men. "Matt is the first alpha male Tilly's ever been with, so it's terrifying but also a rush," Arquette says. "With Sweat, it was more maternal, flirty."
Soon, the married woman is smuggling in small saws (concealed in raw hamburger!) for Matt and Sweat to dig their way to freedom à la The Shawshank Redemption. "If it wasn't true," says Dano, "I don't think I'd believe this story."
See Also
The actor also produces the mini-series based on a true story.
To get closer to that truth, Del Toro, Dano and Ben Stiller (who produces and directs each episode) met with the still-incarcerated Sweat, gaining insight into the bond between the escapees, who were both artists. "They complemented each other," says Del Toro. "Matt is a guy that starts the homework and never finishes. Sweat will follow it through, which is what happens in the story."
Dannemora's all-star cast shot at the actual prison — a spooky experience. Just looking back "gives me the willies," says Dano. Stiller, meanwhile, found the place "amazing and surreal," yet notes that for the men incarcerated there, the beauty of the nearby land "must really play with your head." Speaking of playing with your head, Stiller recalls, "A corrections officer found some buried shivs in one of the spots where we were shooting."
Escape at Dannemora, Series Premiere Sunday, November 18, 10/9c, Showtime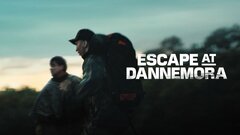 Powered by