Where Will 'American Vandal' Season 3 Land After Netflix Cancellation?
Fans were shocked when Netflix announced its critically-acclaimed (and audience approved) series American Vandal wouldn't be renewed for a third season.
The mockumentary-style show, which followed the investigatory skills of high-schoolers Peter Maldonado (Tyler Alvarez) and Sam Ecklund (Griffin Gluck) over two seasons, has a 97 percent approval rating on Rotten Tomatoes, and was honored with an Emmy nomination for writing for its freshman season.
See Also
From the final season of 'House of Cards' to Chuck Lorre's 'The Kominsky Method.'
"American Vandal will not return for a third season," Netflix said. "We're very grateful to the creators, writers, cast and crew for bringing their innovative comedy to Netflix, and to the fans and critics who embraced its unique and unconventional humor."
According to The Hollywood Reporter, American Vandal producers are currently shopping the series around to other networks because they already have a concept for a third season.
The first season of the true crime parody followed Peter and Sam as they investigated who drew phallic graffiti on several cars in their high school parking lot. In Season 2, the dynamic duo worked together to expose a person who was pulling poop-related pranks on other students at a private Catholic high school.
At Netflix, each season in its entirety was dropped at once, which made the show binge-able for viewers. So if Hulu or Amazon Prime Video were to pick it up, the same format could follow.
American Vandal, with its Generation Z appeal, could also land at the new Facebook Watch, YouTube TV, or upcoming Apple streaming service. It seems unlikely it'll make its way to network or cable TV.
Fingers crossed this isn't the last time Peter and Sam pick up a camera!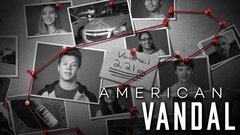 Powered by