Ellen Pompeo on a Possible 'Grey's Anatomy' Exit: 'I Take It Day by Day'
As a show's season count reaches double digits, its future always comes into question, and Grey's Anatomy is not immune to those kind of questions.
The ABC hit series entered its milestone fifteenth season this fall, with star Ellen Pompeo as TV's highest-paid actress. But could it all come to an end soon? Pompeo appeared at the 2018 GLSEN Respect Awards — where she was honored with the Inspiration Award presented by Shonda Rhimes — and she gave a surprising update on the matter.
See Also
He was mysteriously absent in the latest episode.
Last month, the actress hinted an end could be near, telling Entertainment Weekly, "I'm clearly not prepared right now to make any kind of formal announcement about what my future is on the show, but I am really feeling like we have told the majority of the stories we can tell. It's about time that I mix it up. I'm definitely looking for a change."
She followed up on that statement this week to E! News, saying, "I take it day by day and season by season,"
The response aligns with earlier statements made by Grey's creator Rhimes, who previously said, "Ellen and I have a pact that I'm going to do the show as long as she's doing the show. So, the show will exist as long as both of us want to do it. If she wants to stop, we're stopping. So, I don't know if we'll see 600 [episodes], but I want to keep it feeling fresh.
"As long as there are fresh stories to tell and as long as we're both excited about the stories being told, we're in. So, we'll see where that takes us."
See Also
The medical drama was just renewed for Season 15.
So it sounds like nothing is a done deal just yet, fans! No need to panic. She's taking it day to day. We can continue to enjoy Season 15, and potentially look forward to Season 16.
Of course, there's still a chance that the show could come to a close in May, should Pompeo and Rhimes decide it's time but hopefully she'll stick around a little while longer.
Grey's Anatomy, Thursdays, 8/7c, ABC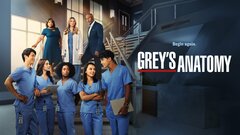 Powered by