'Young & the Restless': Beth Maitland on More Abbott Family Drama & Eileen Davidson's Exit
Move over This Is Us! Viewers of Young and the Restless are about to go time-traveling as the family tries to figure out their future by examining their painful past.
At the heart of this drama is the heart of the Abbott clan — Traci Abbott, played by Emmy-winner Beth Maitland. As family peacekeeper, Traci will try to unite her family the same way she re-assembled the contract Jack (Peter Bergman) shredded that gave Ashley (Eileen Davidson) the profits from her discoveries for the family cosmetics company.
Read on as Maitland previews tomorrow's show and how she feels about her TV sister leaving the top-rated CBS soap.
See Also
Victor Newman won't be showing up on the CBS daytime soap...
Watching the Abbotts these last several episodes feels like eavesdropping on an ugly family blowout. I don't think the family's ever been in this much raw turmoil.
Beth Maitland: There's so much more coming! This is kind of a first for the Abbotts to have every single member of the family not only be at odds, but feeling betrayed, lost, blind-sided, and disappointed as they look around and see beloved siblings, a niece and a nephew. To see those faces that are so beloved and to know that with rare exception each person has their own agenda as a primary target and has turned their backs on their family.
It's like living in Hollywood! Seriously, it's so rich because, in the past, Jack (Peter Bergman) has held Ashley's (Eileen Davidson) paternity over her. He blackmailed her into leaving running the company and returning to the lab. Ash's actions are justified.
I cannot disagree. That's what is so complicated about this tremendous story that's really compelling. Nobody saw that coming. In some cases, when a character does something way away from what is historically expected, it can take you out of the moment. This is the opposite of that, in my opinion. Ashley has been driven to the brink and to make a decision that, she feels, is completely justified. She's been so emotional in her decisions, but she may not understand the widespread ripple effect she's having on the people she loves. For this to happen to this golden family that's always come together has raised the stakes and the pain threshold. Now, we have no one willing to sacrifice.
Traci's the moral center, the peacekeeper in all this. But until recently, she was never actively involved in the family business. What was that like for you?
Fantastic! [Laughs] And too short! What I mean by that is that I don't think Traci aspired to run the company, but she's got the grit to do it. She is a businesswoman, traveling the world, selling her books so, yes, she is a businesswoman in her own way. What she brings to the business is the moral center that John Abbott (Jerry Douglas) had. He did business above board, transparently, and faced the market with ethics and principals.
Had Traci continued at Jabot, she would have made mistakes, but she is also a good manager of her family. She knows who to ask. She knows who has better skills. She has a way of even facing off with Victor Newman (Eric Braeden)! She has something that people can't crack when faced with morality, ethics, and what's right. It's really, really hard to cut somebody off at the knees when they're looking you in the eye and they've got your daughter's heart!
Ha! Yes, Traci has wagged her finger at Victor and lived to tell about it!
[Laughs] That's everybody's favorite moment! It's not even a favorite line. Fans say, "Give him the finger — and we don't mean that one!"
Again, watching Ashley came out to the breakfast table and not knowing if she was even welcome was heartbreaking.
Yes. What an incredible use of a situation and storytelling! That leads us to what's about to happen. This family is in crisis. They are on the brink. We're seeing it all and we're uncomfortable. Everything's been tried [to fix this] and each time somebody drops another bomb. We're left with Traci wanting her family to take a breath and remember who they are. It's important for Traci to remind everybody where they came from. Events in the past absolutely have long-lasting effects. Kyle needs to know that his actions will come back and bite him. Look at Billy [and what he's done]. He can't go back and fix that.
Traci has tried everything — confrontation, admonishing, pleading, begging, and appealing to people's mercy. So the last straw for her is to gather the family and talk about where this all started. She tells them that there's darkness in our past and a lack of forgiveness that needs to be addressed.
Traci was charged with another Herculean task — taping that shredded document back together, which I guess can be done!
[Laughs] Haven't you ever seen The Blacklist? Normally, it takes a warehouse full of workers to do what Traci did! Fortunately, this document was only a few pages!
This might be a business question, but isn't it abnormal for a creator to own the creations when working for a company?
I believe it's assumed that the company would own anything created. However, the owner of the company, the inventor of the company has made his wishes known. All of a sudden there's an indisputable document that clearly states not only what is required of the heirs, CEOs, and this is the founder's wishes. Traci knows that this is both her father and her mother's wishes and that is not to be trifled with. No one in the family is acting like they have before.
What's interesting is that Traci's a writer and part of a writer's job is to analyze, listen and watch and do detective work. Who better than Traci to literally put together the pieces of her family?
So to your earlier point, we're going to see some actors playing younger versions of the Abbott clan. Had you ever met Valentina Sky Gordon, the actress playing "Young Traci"?
Not in this incarnation. Many years ago, after Ashley had had an abortion and was having great mental struggles with that, there was a newly-created flashback with a young Traci and a young Ashley playing with dolls. Young Traci says, "Gee, Ashley, you'd make a great mommy someday!" That Traci was played by my real-life daughter [Emelia]. It was one of my highlights of my time at Y&R! My daughter was four years old at the time and she still remembers her line.
This time, when they were casting a "Young Traci" the show asked to see a photo of me when I was younger. I had recently had a move and didn't have easy access to myself at that age, but I did have pictures of my daughter at that age so the show used that when looking for a Young Traci. It was great casting. The show did a beautiful job. Hilariously, [Valentina], who plays Young Traci, is just a chatterbox. She did a great job acting, and off-camera she was as animated as she could be! The character of Traci, as a youngster, was always in the background, always watching. All those actors did a bang-up job of making a new set of memories for the Abbott family.
Did you suspect Jack truly was John's son? I did because Dina had often called Jack "John." Why do that if he doesn't look like John?
I didn't think it would end up that Jack had a different father other than John. My fear was that Ashley and Abby (Melissa Ordway) had switched the hair samples and that Traci wasn't the true Abbott. After all, Traci has never fit in, never been like the rest of the Abbotts. I thought, "Oh, my goodness, what would that be like?"
But Traci's the glue of the family; she's the rock.
You don't have to be blood-related to be someone's rock, and [Laughs] she could be the glue from somebody else's bottle!
See Also
Plus, he talks returns for Chelsea and Adam and doing an episode with only two characters!
How will this family move forward? Can they?
Everyone can speculate on that. The fact is, this story has changed every expectation and created those questions. We have to harken back to what makes them Abbots. Whether they're "blood" Abbotts or not, they have at their core the foundation that John laid for them. His feeling was, "We are family first." I think Traci is very hopeful that, maybe not today, but [eventually] everybody will be reminded of what's truly important. If we don't love each other we have absolutely nothing left. There will be no company, no prosperity, and no happiness. What will be investigated in the future is how everyone decides to deal with that fact.
How do you feel about Eileen leaving? Would you like to see her return to the show?
I'd love to see that happen, but what I would love most, is for Eileen to be happy. It is my and everyone's greatest desire that she is happy and is also able to return. Having spent a good deal of my tenure at Y&R outside of the building. I can tell you that, at the end of the day, no job, no career, no new car, nothing you change is going to make you happy. Happiness is found down deep inside and each of us has to take that responsibility. What I want more for Eileen than anything is for her to be happy. She's worked very hard and she deserves that. It will be hard for us to adjust without her. I can only hope when she has a rest that, yes, she comes back.
The Young and the Restless, Weekdays, CBS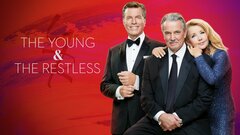 Powered by