'Young & the Restless' Showrunner Mal Young Dishes on New Characters & Why Hilary Had to Die
Earlier this week, The Young and the Restless invited TV Insider to the set of the top-rated CBS soap for interviews over coffee and bagels at Crimson Lights. We took the opportunity to chat up executive producer/head writer Mal Young on some recent developments in Genoa City.
Read on to get the scoop!
See Also
But what will happen to Lane (aka Lily and Cane)?
You're introducing a few family, the Rosales clan, one by one instead of all at once.
Mal Young: It can scare people off if you do that. We got to know Arturo (Jason Canela) first. Then, we brought on his brother Rey (Jordi Vilasuso), who's investigating the case of J.T.'s (Thad Luckinbill) disappearance. They all come in with individual stories, then organically, we bring in [their sister] Lola (Sasha Calle) and you start to see them having family stories. If we did it like, 'Here's everybody all at once!' it would scare everyone off.
Will we see their parents at some point?
Oh, yeah. There's a whole story about where the dad is and the mother. Rey has a wife we're going to be seeing down the line. She's a big new character for us. We've got rich stories for every one of them.
Often, it takes a while for a new actor to settle in. Michael Mealor (Kyle) seems to have meshed nicely and quickly with the show's vets.
Yes. He had two mentors when he started — Peter Bergman (Jack) and Jason Thompson (Billy), the two nicest guys in the business. They took him under their wings. Michael has this attitude that he wants to do good work. He passionately cares about it. He doesn't fear it. He offered to come in on his days off to be part of the casting for Lola. He's a special human being. He has hit the ground running.
The production values of the show look great; what have you brought to the show in terms of that?
Thank you. I hope people recognize that we've improved the lighting. We've made it more realistic. I've tried to make the direction and camera work more cinematic so that it doesn't feel too 'soapy' – if that's a word. Sometimes you can fall into a very old-fashioned outdated way of shooting drama on multi-camera. Multi-camera has to aspire to look like single camera. The camera moves have to be a particular way. We've lost the big zoom-ins. Those old ways are outdated. We've moved on from those. You want it to look like a prime time show.
Y&R's lost two big fan favorites this year — Melissa Claire Egan (ex-Chelsea) and Mishael Morgan (ex-Hilary). Can you talk about the decision to write Chelsea out, leaving a return open, while Hilary was killed off?
When Missy [Claire Egan, ex-Chelsea] said she wanted to try new things we got the feeling that Chelsea was going off on a little trip and she wasn't [leaving forever]. Missy and I talked about how this isn't the end of the story. Chelsea has Adam's kid. She's got a big chunk of Y&R history out there. That character will walk back in one day. There's no doubt about it.
Conversely, Hilary went to that big soap in the sky. Why?
I haven't told anyone in the press this story, but I'm going to tell you. When Mishael came to me and said she wanted to move on, we talked about it. She's a very talented and ambitious actress. She has big dreams. I said to her, 'You're not coming back, are you?' She went no. She said there are so many opportunities for diverse casting now. She was upfront about that. She said I think I've got my moment. I said you've got the best show reel on TV. You're leaving at a high. I'll give you the biggest exit story I can possibly give you. I want you to be the next person we see in prime time.
What if all those beats had been played — the accident, Devon (Bryton James) and Hilary remarrying, and then Devon walks into the hospital room to find Hilary gone, leaving a note behind that they'd re-wed in haste and she was leaving town to recover?
I said to CBS and Sony she's not coming back. I think we should kill her. Killing her sends out a message to everyone that she's not coming back. Often soap deaths are never [final] and the viewers see through that. We got a lot of great comments from viewers loving that we did a proper death and showed the proper emotions. We showed the impact on Lily (Christel Khalil), Devon, and Neil (Kristoff St. John). It had repercussions.
Also, I didn't want anyone else playing Hilary. I said to Mishael, 'You've created this amazing, sometimes monstrous, character, I think it would be really hard to recast you and also a disservice to the character if we just went here's another….actress who's going to play you now.' No. She will forever more now be Hilary. That was the best gift we gave her and she was in tears when I told her that. That was the reason we did it, two reasons.
Devon will either forgive Lily for Hilary's death the way the Winters clan appears to have forgiven Phyllis (Gina Tognoni) for her role in Dru's (Victoria) death – or it'll be like Phillip (Donnelly Rhodes), where his passing was always there between Kay (Jeanne Cooper) and Jill (Jess Walton).
It's real [for Devon]. His next big story is in trying to come to terms with his sister and his wife.
Adam (Justin Hartley) has already "died" once and come back once with plastic surgery. If and when he comes back again, do you write in a second round of plastic surgery to explain a new actor's face in the role – or do you just not mention it?
I try not to think about that because it would keep me awake at night. I don't know if or when [Adam will be back]. Everyone talks about him a lot. He seems to be a big part of the show. He's officially dead, but…maybe not?
With Nicholas (Joshua Morrow) raising his son, Christian, and becoming more Adam-like, it sets the stage for Adam to return and square off against his brother.
There's nothing to talk about right now [in terms of an Adam return].
See Also
The focus might be on the 2018 primetime awards right now, but we already have our picks for 2019's soap set.
Nikki (Melody Thomas Scott) killed J.T. (Luckinbill) to save her daughter Victoria (Amelia Heinle) and then they formed a pact with Sharon (Sharon Case) and Phyllis to keep silent. Why? Paul (Doug Davidson), the police chief, and Christine (Lauralee Bell), the district attorney, are sympathetic characters. Why wouldn't they believe this was self-defense?
We picked these four particularly because they naturally don't get along. Phyllis and Sharon don't – there's so much history there. Phyllis doesn't trust Nikki and Victoria. It's a fascinating mix. Then you throw into that the cops have always been looking to pin something on the Newmans. Paul and Christine have always wanted that, but they haven't gotten close enough because of his relationship with Nikki. To bring in an outside [player, namely, Rey] who doesn't have that history to rock the boat, ask questions, and also be falling over Sharon complicates things nicely.
You said you'd like to see an episode of Y&R done with just two actors — Peter Bergman (Jack) and Jess Walton (Jill) or Judith Chapman (Gloria) would be great. Who do you think?
(Laughs) I couldn't answer that. They're all fantastic. I don't have pets, regardless of what social media says. But they're all good enough to do it. That's why I'm confident that we can do it. We've got the actors and the writers to do it!
Young and the Restless, weekdays, CBS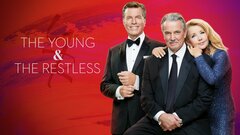 Powered by