We Have Our First Look at Shane West as Bane on 'Gotham' (PHOTO)
The baddest baddie just arrived in Gotham and the city won't know what hit it.
The superhero drama's upcoming fifth and final season will be introducing the villain Bane, as revealed at the 2018 New York Comic Con panel. It was also announced that the final season's storylines will be inspired by those found in the comic books, No Man's Land and Batman: Zero Year.
The character, made famous by Tom Hardy in Christoper Nolan's The Dark Knight Rises, will this time be portrayed by Shane West (Salem, Nikita, ER).
Gotham writer and producer Tze Chun unveiled the first look at West in the terrifying costume. Check out the image below:
First look at our #Bane 🔥🔥🔥#gotham #gothamtvwriters #shanewest pic.twitter.com/B7XM8pfC7i

— TZE CHUN (@anygivenchunday) October 22, 2018
Like Hardy's Bane, West is also wearing a breathing mask but the large chest piece and flared shoulder pads look more like something out of Star Wars.
Bane will be introduced as Eduardo Dorrance, a friend of Jim Gordon (Ben McKenzie) from his Army days, who eventually transforms into the character who breaks Alfred's back (which differs from what happens in the comics).
In addition to Bane, the series is making another change: It's going to jump forward in time and then spend the first half of Season 5 circling back to explain how we got here. "We pick up at the top of Season 5, at the conclusion of No Man's Land, Day 365," showrunner John Stephens told Entertainment Weekly.
"Then, we cycle backwards to day 87, three months into No Man's Land where Jim has created his green zone and wants his reunification. We're catching up, and for the first nine episodes, we're always catching up to that first scene we see."
Meanwhile, West has been teasing his new character on social media.
Got a little message yesterday with my brekkie….😏 @Gotham pic.twitter.com/ortqfddrH2

— Shane West (@shanewest) October 16, 2018
A new vicious villain just stepped into #Gotham…

Welcome @shanewest as the infamous Bane: https://t.co/vMK2TaJrR8 pic.twitter.com/kVKcXxn82i

— Gotham (@Gotham) October 10, 2018
Gotham, Season 5 Premiere, 2019, Fox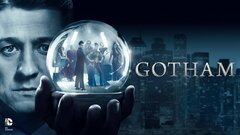 Gotham
where to stream
Powered by