'The Mandalorian': Jon Favreau's Pics Tease Behind-the-Scenes Details of the New 'Star Wars' TV Series
In typical Stars Wars fashion, not much is known about the upcoming live-action TV series, The Mandalorian, from showrunner Jon Favreau.
The only details fans have so far is that it's expected to debut on Disney's new streaming service, and it's set sometime between the Return of the Jedi and The Force Awakens. It will also follow a "lone gunfighter in the outer reaches of the galaxy far from the authority of the New Republic," Favreau said on social media.
And five episode directors have been announced: Dave Filoni (Star Wars: The Clone Wars, Star Wars Rebels), Taika Waititi (Thor: Ragnarok), Deborah Chow (Jessica Jones), Rick Famuyiwa (Dope), and Bryce Dallas Howard (Solemates).
In an exiting moment, Star Wars creator George Lucas visited the set to seemingly give his seal of approval. Favreau posted a few photos with Lucas, and the background of the pics gave a way a few, new clues — the set appears to be some sort of new cantina.
View this post on Instagram
View this post on Instagram
Casting for The Mandalorian has yet to be announced. But Favreau continues to tease some new props:
View this post on Instagram
View this post on Instagram
View this post on Instagram
The Mandalorian, 2019, Disney Play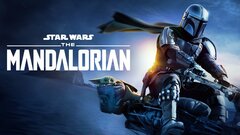 Powered by