Why 'The Real Housewives of Atlanta' Is the 'Housewives' to Watch
Like a mother who insists she loves all her children equally, I am reluctant to play favorites when it comes to Bravo's Real Housewives franchise. Each iteration of the reality series (there are seven in the current rotation) has its own winning qualities, and could be the best choice at any given moment depending on what itch you're looking to scratch.
For the sake of argument, though, let's imagine some sinister Bizarro World version of Andy Cohen materializing in my living room, demanding I commit to a single Housewives property for eternity.
It'd be Atlanta, y'all.
See Also
Find out what the reality stars had to say about Sasha Baron Cohen's on-screen stunt.
Like any well-cast 'wives, Cynthia Bailey, Kandi Burruss and Co. amuse and dismay with their absurdly themed social gatherings, ill-fated girls' trips — this season, they'll head to Japan, Lord help the Land of the Rising Sun — long-simmering rivalries and breathtaking lack of self-awareness. But unlike their peers holding court in other cities, who tend to give off the impression they've molded their lifestyles and personas to fit this particular genre, these ladies seem more, well, real. They are authentically preposterous.
Watching them preen and squawk and throw shade at one another's basements, bank accounts and taste in men, I take great satisfaction in the probability that they'd be behaving like this with or without an audience (as opposed to, say, Orange County O.G. Vicki Gunvalson, who was still relatively normal when we first met her back in '06 and has since mutated into an entirely different species).
See Also
The hour included some juicy intel on how this modern-day soap opera all comes together.
I have no doubt NeNe Leakes was a fully operational superstar diva in her own mind long before the cameras ever started rolling, and she'll remain that way after they've gone. That's what makes her and her cohorts such a pleasure to behold.
If a tree falls in the forest and there's no one around to hear it, does it make a sound? Below the Mason-Dixon Line with these overripe Georgia peaches, the answer is an emphatic "Bloop! Bloop! Bloop!"
The Real Housewives of Atlanta, Season Premiere, Sunday, November 4, 8/7c, Bravo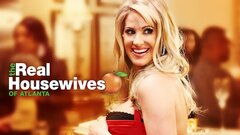 Powered by