'Daredevil' Star Charlie Cox Teases a Change for Matt Murdock in Season 3 (VIDEO)
Getting a spoiler out of a person who is part of the Marvel universe is practically impossible… but hey, we tried.
The cast of Marvel's Daredevil chatted with senior writer Damian Holbrook at TV Insider's video suite at 2018 New York Comic-Con about new story lines that fans can look out when Season 3 premieres on Netflix this Friday.
The vigilante himself, Charlie Cox, spoke about Matt Murdock's new mask, or lack thereof.
"Evolution or devolution?" Cox joked. "Matt Murdock is currently no longer wearing the red suit, and he's kind of reverted back to the black bandana look from Season 1."
"What that allows for is someone else to potentially put on the red suit," he teased.
Watch the rest of the interview below:
Marvel's Daredevil, Season 3 Premiere, Friday, Oct. 19, Netflix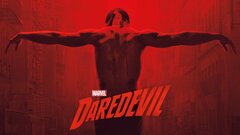 Powered by