'Tell Me a Story' Premiere: 'Nothing Is Cut-and-Dry' Says EP Kevin Williamson
New York's concrete jungle stands in for the deep dark woods on Tell Me a Story.
The show, from executive producer Kevin Williamson (The Vampire Diaries), takes three classic fairy tales and reimagines them as interwoven contemporary crime dramas that play out over 10 episodes. You've never seen Hansel and Gretel, Little Red Riding Hood or the Three Little Pigs like this before!
See Also
James Wolk, Dania Ramirez, Danielle Campbell, and more also talk working with Kevin Williamson and the show's timeliness.
"Those fairy tales that were written in the Middle Ages and so forth, what would they look like today?" asks Williamson. "What would they look like in America?"
In his imagination, they're pretty damn dark. His Hansel and Gretel are characters in a story about guilt, in which an Army vet (Once Upon a Time's Dania Ramirez) must bail her brother out of trouble again. Red Riding Hood is a troubled teen (The Originals' Danielle Campbell) — living with her grandmother (Kim Cattrall) — whose inner demons may be more dangerous than any stranger lurking on the path home. And he envisions the pigs as small-time criminals (including Paul Wesley) who cross a proverbial big bad wolf (James Wolk).
Even if you know the originals by heart, don't assume you know how these stories end. "We wanted to subvert them," Williamson says. "We complicate it in a way in which nothing is cut-and-dry."
Tell Me a Story, Series Premiere, Wednesday, October 31, CBS All Access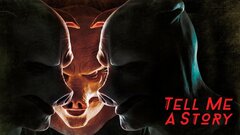 Powered by