'Tell Me a Story' Cast Explains Why It's Not the Next 'Once Upon a Time'
On October 23, the stars of CBS All Access' upcoming series Tell Me a Story, including Paul Wesley, Kim Cattrall, Danielle Campbell, Billy Magnussen, and James Wolk, hit the red carpet at the Metrograph in New York City to celebrate the show's forthcoming premiere this Halloween.
The series, which will take the world's most beloved fairy tales and reimagine them in a new context, might have that in common with the ABC hit Once Upon a Time, but viewers will quickly find that Tell Me a Story is a brand new animal.
"[Tell Me a Story] is a lot heavier, a lot darker, and with a lot more adult themes — things like addiction, and greed and lust. A host of things that Once Upon a Time would not really [address]," said actor Michael Raymond-James, who plays Mitch in the new series and coincidentally also starred as Neal Cassidy in OUAT!
"There's no period-piece costumes or anything like that, and it takes place right now, at this very second, with people who you would be on the train with," added his Tell Me a Story co-star Dorian Missick (Southland), who plays Sam.
Despite the show's more realistic depiction of these kinds of tales, in the same vein as creepy dolls that come to life in horror films, Tell Me a Story aims to shock us by taking parts of our childhood and making us to question if there's something more sinister behind that innocence.
See Also
'TVD' creator Kevin Williamson reunites with Paul Wesley for the scary new show, premiering on Halloween.
"A lot of [fairy tales] came from a different era — they're hundreds of years old. So they came from a time when the world was a lot darker, and a lot more violent… They were tales told to children to keep them alive, essentially. Little Red Riding Hood [teaches you] 'don't stray from the path, because the consequences are pretty great.' They tried to teach kids [these lessons] in a way they thought they could understand," said Raymond-James.
"I think what's cool about our show is that we're going back to the root of these stories. It's a very dark show, but fairytales were dark," added James Wolk (Mad Men, Zoo, Goliath), who plays Jordan.
For the cast, including Danielle Campbell (The Originals), who plays Kayla, the modern-day Little Red Riding Hood), preparing for the show meant revisiting stories from when they were kids. "It was interesting going back and doing the research and figuring out that what we grew up thinking was completely wrong," she said.
Aside from the cast's star power, the involvement of the series' creator, writer and executive producer Kevin Williamson — the creative force behind the wildly-successful series Dawson's Creek and The Vampire Diaries — gives the show promise before it even hits the air.
"Just the fact that Kevin Williamson made it [will make it different]," says Luke Guldan (Billy on Tell Me a Story). "He's created so many great shows that I really just am obsessed with, so to be able to see a little bit of how he's working and creating, and to be a small part of that world was just kind of awesome."
"He's not only an amazing creator, he's got an incredible mind—he's just a beautiful person. His vision is so authentic and specific, and there's something really great about the show coming out on Halloween. In true Kevin Williamson form—that is his genre—suspense, thriller," offered Dania Ramirez (Heroes, Entourage), who also starred on OUAT.
But, according to James Martinez (One Day at a Time, House of Cards), who plays Detective Olsen, don't expect the series to be made up of nightmare fuel alone.
"[The show's basis in fairy tales] kind of lets us be kids again, in a way, just to kind of experience these children's fairy tales in a very timely, adult kind of way. It appeals to adults, but at the same time it's approached in a very playful way that kind of sparks the imagination," he said.
Actor Davi Santos, who plays Gabe, compared the series to a "rollercoaster ride," emphasizing that it isn't just meant to scare you, it's meant to make you think, as well.
"It's a fun ride, you know? It's like a step up from a haunted house meets a haunted hayride, with a little too much acid or something. It's really freaky in a way that also makes us feel like, 'Well, what if this is possible?'" he explained.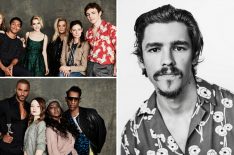 See Also
A behind-the-scenes look at the stars of your favorite TV shows.
And even as a show that draws its inspiration from stories of centuries past, Tell Me a Story may also remind us a lot of the issues that most concern us today.
"I think it's very fitting for the world we're living in now: [despite negative events], you can still find hope, and the morals are still there," said Ramirez.
When it comes to the series premiere next week, Santos echoed the anticipation of the entire cast: "What I'm most excited for people to see is just how nuanced the stories are. We think we know how things are gonna play about because we're familiar with the fairy tales, but to watch it unfold with the twists and turns it takes, it's really going to be great for people to watch."
Tell Me a Story, Series Premiere, Wednesday, October 3, CBS All Access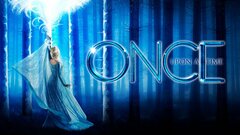 Powered by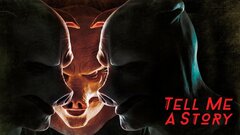 Powered by