CBS Talent Competition 'The World's Best' to Premiere in Post-Super Bowl Time Slot
Every year, one show always lands one of TV's most coveted time slots — the post Super Bowl window.
This year, Super Bowl LIII is airing on CBS, which means the eye network gets to choose its lineup, and its new global talent competition series The World's Best, featuring a star-studded cast, is now set to premiere after the big game.
Golden Globe-winner Drew Barrymore, Emmy award-winner RuPaul Charles, and Grammy-winner Faith Hill are all serving as the judges, with late-night star James Corden hosting and serving as an executive producer of the show.
The show is being called a "one-of-a-kind talent competition series featuring elite acts from around the world" and has a 10-episode order.
"Performers will not only have to impress the American judges, but will also need to impress the 'wall of the world,' featuring 50 experts from around the world and every field of entertainment to advance through the competition," according to a press release.
See Also
The newest headliners have been revealed!
"What a super combination — the world's biggest sporting event paired with the world's biggest talent competition," said Kelly Kahl, President, CBS Entertainment, in a statement.
"The World's Best is perfect post-Super Bowl programming for viewers of all ages. It features elite acts from around the world delivering jaw-dropping performances, a talented mix of fan-favorite judges and is produced by the most innovative minds in television, Mike Darnell, Mark Burnett, Ben Winston and James Corden, who also serves as our brilliant host."
The World's Best, Series Premiere, Sunday, Feb. 3, 2019, approximately 10/9c (depending on game length of Super Bowl LIII), CBS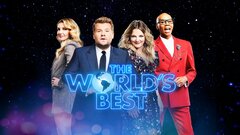 Powered by