Amazon Orders 'Thunderbirds Are Go', an Update of the Classic Kids Series
5…4…3…2…1 Thunderbirds Are Go!
Amazon is picking up four 13-episode seasons of Thunderbirds Are Go, a reinvention of the 50-year-old classic children's series, Thunderbirds.
The new series will continue to follow the heroic acts of the Tracy family, an International Rescue (IR) team with technologically advanced land, sea, air and space rescue crafts. Ex-astronaut Jeff Tracy leads his five adult sons—Scott, John, Virgil, Gordon and Alan—with one essential goal: to pilot various Thunderbird machines on impossible missions to save lives. In addition, Lady Penelope, voiced by Rosamund Pike (Gone Girl), will be joining the group of heroes as an aristocratic undercover London field agent.
To transform the series and blend classic adventure with contemporary visuals, the '60s marionette puppets will now be updated with a mix of CGI animation and live-action model sets.
The first season is scheduled to premiere later this year and will be available for Prime members on streaming on various devices and on Amazon.com/originals.
RELATED: Amazon's 6 New Comedy and Drama Pilots: What's Worth Watching?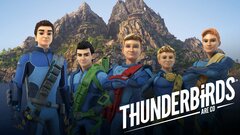 Powered by