Will Friedle and Daniel Fishel's New Show & More 'Boy Meets World' NYCC Reunion Reveals
Those Boy Meets World fans are just as dedicated as ever, even after 25 years!
That's right, 25 years — it's been a quarter century since viewers met Cory Matthews (Ben Savage), brother Eric (Will Friedle,) and Topanga Lawrence (Danielle Fishel) on the ABC sitcom, and the chemistry between the actors is still apparent all of these years later.
Gathering at the Javits Center's main stage at New York Comic-Con the beloved trio joined the reunion panel in front of hundreds of adoring fans to discuss any and everything BMW.
Luckily, TV Insider was present to hear the cast reminisce about their time on the series, debate what their characters' dating profiles may look like today, and even give fans some hope for more of the Matthews family in the future. Below, find our breakdown of the panel's top moments.
Will & Danielle Tease a New Project
When one fan asked the three about their projects after the series wrapped in 2000, Friedle opened up about his battle with anxiety. The actor revealed that voiceover work helped him continue doing what he loves without having to be in front of a camera, but that could change very soon.
"I'm slowly starting [live-action roles] again," Friedle teased. But it's not just any on-camera work, it's with Fishel who is developing a show with him! The pair revealed they're currently shopping the project around to networks, so fans should keep their fingers crossed.
Ben & Daniel Really are Cory & Topanga
Throughout the panel, Savage and Fishel were truly like an old married couple as they playfully bickered back-and-forth. When Savage had difficulty interpreting fan questions, Fishel took it upon herself to repeat the question for Savage in a helpful way. At one point she noted, "I've known Ben for 25 years," implying that she knows how to communicate with him. "Your tone makes me nervous but also relaxed," Savage quipped during one of the moments.
More of the Matthews
During the discussion, the three stars repeatedly brought up their devastation over the show's finale — and their dream of a reunion on-screen isn't dead yet! Reminiscing about the good old days, Savage innocently suggested, "We could still do [it]," as in, reboot the original show. Of course, the crowd went wild at the suggestion!
Boy Meets Dating Apps
One fan asked what the cast thought their characters' dating apps might look like today, and their answers were nothing short of hilarious. Fishel joked that Topanga's would say, "Don't tell Cory I'm on here." Meanwhile, Savage quipped that Cory would "probably match with Shawn [played by Rider Strong]." And Friedle claimed Eric's would say, "'I'm a senator,' [but] misspelled."
They Didn't Think the Show Was Popular
Despite the massive crowd and fan support the group was shown at the panel, they admitted that they didn't think that the show was that popular. "We were just doing the show for our grandparents," Fishel said. Friedle, meanwhile, said he would never get recognized in public — even during the show's later seasons.
Savage credited it to the show taking place in a different time without the technology we have today, which he says was "to our benefit." If they didn't know them then, they certainly know now!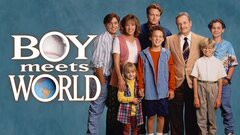 Powered by