'Criminal Minds' EP on Garcia's Darker Side, Reid's Recovery & Rossi's Romance
[Warning: This article contains spoilers from the Season 14 premiere episode of Criminal Minds.]
The BAU team on Criminal Minds never has it easy — when they're not tracking down serial killers, they're getting abducted themselves, always risking their lives to save innocent people.
The FBI drama's Season 14 premiere picked up right where Season 13 left off: Rossi (Joe Mantegna), Prentiss (Paget Brewster), and the squad are racing against the clock to locate colleagues Reid (Matthew Gray Gubler) and Garcia (Kirsten Vangsness), who've been abducted by a cult of serial killers.
VICAP Agent Mary Meadows (Karen David) is the mole within the FBI, working for the cult's leader called "The Messiah" (Michael Hogan), and orchestrating this plan. In a full-circle moment, the team unravels the mystery and realizes they've encountered these "Believers" before — when they took down an underground cult in La Plata County, Colorado in Season 4.
The episode has many of these types of flashback-reflection moments, which EP Erica Messer said she created to honor everyone — even some of the most terrible villains — who made their mark on the CBS series in its 300 episodes.
The scenes also highlight some of the more touching moments on the show — like when J.J. (A.J. Cook) asked Reid to be her son's godfather. Messer hopes fans will appreciate the inclusive gesture.
And don't worry, everyone on the BAU team makes it out alive, though some wounds may linger longer than others. Messer spoke to TV Insider about Episode 300's big moments and what's in store for the rest of the season:
In "300," Garcia is tested in a way she's never been before…
Erica Messer: [She's] never really been put in a position before where she has to help the bad guys for the greater good and she really struggles with that decision, even though it saves Reid's life.
But the BAU team is really a family. She's saving someone she loves.

[The show] is always about family. In this particular episode, it was a representation of a good family who will do whatever it takes to protect one another. And then there's a representation of a family we would completely disagree with, which is the cult who has the same value — do whatever it takes to protect those in our family.
[The episode] really is an exploration of those two worlds. The themes are family and caring for one another.
Will Garcia's darker side be permanent?
It's impossible not to have that face and energy onscreen and not feel happy and good. When she's off, it sort of affects everything and everyone and that's why we'll tell that arc in the first four of five episodes. She's not suffering for that long because that's a painful things to watch. She's our sunshine.
Reid is badly tortured; will he carry this trauma into future episodes?
It's one thing that we'll add to his character and this is certainly a moment of reflection for him. The job for him is often personal and he will definitely be reflecting on that as the season progresses.
Rossi is getting a romance this season. What can you tell us?

At the end of Season 13, we met Krystall Richards (Gail O'Grady), who's his third wife for like 36 hours in Vegas. They had such a lovely connection on-screen we said she needs to come back.
When we see [Rossi and Krystall] early in the season, you see that they've continued the relationship and he's going to realize he doesn't want to let this one get away. Season 14 will lean towards a more permanent solution for those two.
Do you have an endgame for the show in mind?
I don't have the endgame in mind yet. I said to CBS if you know it's coming, let me know so I can think of it.
Ideally, there's a way to end the show if it has to end in this incarnation. There's also a way to undue that little ribbon and open it up again and keep telling stories because we're never going to run out of good guys catching bad guys. I would love to be able to see this brand live on for a very long time.
Criminal Minds, Wednesdays, 10/9c, CBS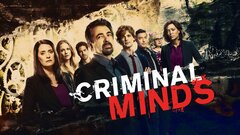 Powered by