'Criminal Minds' Executive Producer Erica Messer Teases a 'Season of Reflection'
Criminal Minds' Season 14 premiere is doubling as the series' 300th episode and the importance of the occasion was not lost on executive producer Erica Messer, who also wrote the hour.
She tells TV Insider she was honored to helm the milestone and didn't feel as much pressure as in previous seasons. She explains how she was sure to honor everyone in the episode — even some the "bad guys" who made their mark on the CBS series.
See Also
Prepare to see many familiar faces in this special episode.
"It was a lot of fun," she says of "300," adding that she hopes fans who've stayed with the show will appreciate how it connects to past episodes.
Read the interview below to find out what else is in store for Season 14.
Episode 300, congrats! How does it feel? Did you ever think you'd make it to 14 seasons?
Erica Messer: No! I think it's season by season, are we going to get another year? Anytime you reach a milestone like this, you think how did we get here? We just got here. How was it been 300 episodes?
I felt [the pressure] years ago when we had a lot of changes thrown our way early-on in the series and we just kept going. I thought 'OK, wow, this show definitely has legs.' But 300 episodes is just such a gigantic milestone. I don't think any of us who started on the show in 2005 really looked to 2018 and thought, 'Oh, we'll still be together doing this show.'
Was it intimidating writing such an important episode?
Yeah, a little bit. It was a honor to write it, especially being about to delve into our show's history and have characters — good guys and bad guys from the past — play a part in solving the present mystery. It was a lot of fun and something that I think was a nod to fans who have been watching us for this long.
Does Season 14 have an overarching theme?
I feel like it's a season of reflection. Not just the show itself reflecting on its history but our characters. [They're] having some struggles and looking into their past and their behaviors and really learning and growing from them. And we're making an effort to do that with every character this year, which isn't something we always get the chance to do.
I think with a 15-episode order we've really focused — we can do more in less time. It sounds weird but you can. The storytelling is different; it's more concentrated and sometimes more intense.
See Also
Danny's quest for justice, Erin's new gig, and more.
Does having less episodes speed up those storylines?
A little bit. In a way like, 'Wow, it's 15 so we can let this character digest this and live with [trauma] for the first five episodes before we deal with it and it's believable and still relevant.
Criminal Minds, Season 14 Premiere, Wednesday, October 3, 10/9c, CBS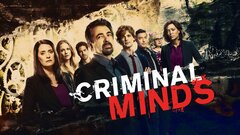 Powered by