James Lipton Leaves 'Inside the Actors Studio': 5 Great Episodes (VIDEO)
It's the end of an era as longtime host, creator, and executive producer James Lipton has revealed he'll be retiring from his role as host of Inside the Actors Studio.
The big change comes as the show makes a network change from its original home at Bravo to Ovation TV reports Deadline.
Premiering in 1994 on Bravo, Inside the Actors Studio featured Lipton interviewing various actors and actresses about their careers and allowing students in the audience to ask questions. The program was part of the master's degree program at the Actors Studio Drama School of Pace University.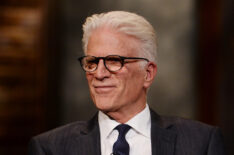 See Also
'[He's] just like this magnificent specimen of a man,' says the actor.
Lipton, who is now 92, has talked with some of today's biggest stars about their careers and became an indisputable pop culture figure solidified by Will Ferrell's Saturday Night Liveimpression of him. Despite the network shift things will continue as they always have just without Lipton.
The show's new format will include multiple guest hosts throughout production, and will honor its origins. Of course, it's never easy to say goodbye so we're taking a look back at some of the show's memorable moments in honor of Lipton.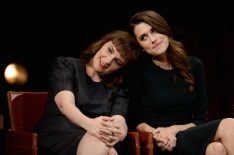 See Also
'It was, like, the worst thing ever,' Lena Dunham also says of bringing her HBO dramedy series to a close.
Robin Williams
Williams may no longer be with us, but moments like his time on Inside the Actors Studio with Lipton remind fans why they loved him. In the clip above Williams discusses his reaction to winning his Oscar, and it's enough to make Lipton crack a smile alongside the audience's laughter.
Tina Fey
Lipton's sense of humor led his interview with Tina Fey on a funny and familiar path as the comedy vet showed off her Sarah Palin impression. Continuing the interview despite the change in tone, Lipton adapted to Fey's impression offering some tailored questions and uncontainable laughter.
See Also
Whether they're spouting rehearsed soundbytes or being caught off-guard, celebrating the highs of a career or defending the lows of scandal, society's icons make great TV interviewees.
Dave Chappelle

One aspect of Inside the Actors Studio that will be remembered is Lipton's ability to ask difficult questions and broach serious topics. In the clip above, Dave Chappelle gets raw and real with Lipton and the audience in a way that not many shows could.
Bryan Cranston
Fans of Breaking Bad know that Bryan Cranston went to some dark places for his role as Walter White, and Lipton explored that in the actor's episode of the show. Cranston discusses a scene in which he allows a young girl to die knowing he could save her, and the emotional toll the scene took on him in the segment above.
Amy Poehler
One thing Lipton did well as host was sing the praises of his guests no matter who they were or what their acting work included. He was in awe of them all and Amy Poehler was no exception as he highlights her Parks and Recreation roles on and off-screen in the clip above.