Netflix Reveals 'Making a Murderer Part 2' Premiere Date & Teaser (VIDEO)
Netflix's highly addictive true crime series Making a Muderer is returning with all new episodes for the first time in nearly three years.
Making a Murderer Part 2 is slated to launch Friday, October 19, on the streaming service and will cover a whole new chapter in the story of Steven Avery, who went from "DNA exoneree and reformer to convicted murderer."
Filmmakers Laura Ricciardi and Moira Demos return to the Midwest, where they have unlimited access to defendants Avery and his nephew Brendan Dassey.
Similar to its first run, Making a Murderer Part 2 will span 10 episodes and focus on Avery and Dassey's convictions as they maintain their innocence in the murder of Teresa Halbach.
In this chapter of the story, though, the focus will be aimed at the post-conviction process, featuring interviews with Avery's and Dassey's lawyers Kathleen Zellner, Laura Nirider, and Steven Drizin.
"Steven and Brendan, their families and their legal and investigative teams have once again graciously granted us access, giving us a window into the complex web of American criminal justice," said executive producers, writers and directors Laura Ricciardi and Moira Demos in a statement.
.@MakingAMurderer Part 2 premieres October 19 pic.twitter.com/dL1Ob8eD5E

— Netflix US (@netflix) September 25, 2018
"Building on Part 1, which documented the experience of the accused," they continued," in Part 2, we have chronicled the experience of the convicted and imprisoned, two men each serving life sentences for crimes they maintain they did not commit. We are thrilled to be able to share this new phase of the journey with viewers."
What will unfold along the 10-episode journey? We're sure viewers will be binging to find out.
Making a Murderer Part 2, Premieres Friday, October 19, Netflix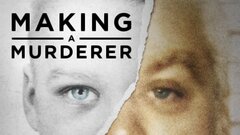 Powered by