How Former 'Cosby' Star Geoffrey Owens Landed a Part on 'NCIS: New Orleans'
Geoffrey Owens took an interesting route from New Jersey to NCIS: New Orleans: After a photo of the former Cosby Show star bagging groceries at a local Trader Joe's generated some mean-spirited press, the ensuing groundswell of support — and Owens's positive attitude — inspired executive producer Christopher Silber to contact him about a part.
"We admired Geoffrey's work, and we're always on the lookout for the perfect marriage of actor and role," he explains of Owens's "strong, compassionate" character, Cdr. Calvin Atkins. As Pride spirals into a dark place in the aftermath of his shooting, he turns to the trusted Navy officer and doctor for spiritual and medical guidance.
Owens, 57, whose credits also include Blue Bloods, The Blacklist, Divorce and It's Always Sunny in Philadelphia, nabbed a 10-episode commitment from OWN's The Haves and the Have Nots as well.
But first, he turns up in the NCIS spinoff's sixth episode, set to air October 30. And, Silber hints, "We certainly see a future where Commander Atkins joins the rotation of familiar faces who return."
NCIS: New Orleans, Tuesdays, 10/9c, CBS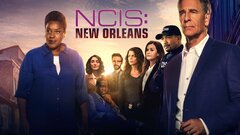 Powered by