FYI, Meredith Grey Has a History of Regrettable 'Grey's Anatomy' Hookups
Meredith Grey (Ellen Pompeo) was married to a McDreamy husband, but her romantic life beforehand and afterward hasn't exactly been the stuff of envy.
A recent promo for Grey's Anatomy shows her in a state of undress with Andrew DeLuca (Giacomo Gianniotti) of all people, and she might be just as embarrassed about the encounter as fans are horrified at this new pairing. Here's the scoop on that and the rest of the hookups she'd probably prefer to forget.
See Also
The ABC series' EP breaks down what's to come
George O'Malley
A little out of order, but we had to start with what is probably Mer's biggest mistake between the sheets. After Meredith had a particularly rough day in Season 2, and after George (T.R. Knight) said particularly kind words to her, she tried having sex with him. Operative word: tried. Not long after they stripped down and started making out, Mer burst into tears, realizing she just wasn't that into him. Quoth Alex (Justin Chambers): "When your life is sucky, you get drunk and sleep with inappropriate men. It's your thing." (Quoth Meredith in return: "You sleep with inappropriate women when you're sober.")
Steve Murphy
The name Steve Murphy (Sunkrish Bala) doesn't ring any bells, does it? What if we were to tell you this is the name of the guy whose penis Meredith "broke" in Season 2? Yes, not only did she fake an orgasm with the guy during their one-night-stand — as both she and Derek tried to move on from one another — but he showed up to the hospital the following day still, ahem, fully engorged. Turns out, a spinal tumor was to blame for his unstoppable erection, not Meredith, but she was still duly humiliated.
See Also
Nobody knows where you might end up, but we do know a thing or two about 'The Season of Love.'
Derek Shepherd
We dare to put McDreamy on this list? Yes, we do. Listen, just because Derek Shepherd (Patrick Dempsey) was the love of Meredith's life and rocked immaculately-coiffed hair doesn't mean sex with him was the brightest idea each and every time. Meredith certainly regretted their initial one-night-stand when she realized he was her superior, after all. And then there was that time Bailey (Chandra Wilson) found out about their HR-violating relationship when she witnessed their "tail wagon" sex. And then there was that time they hooked up at the hospital prom and accidentally left Meredith's panties behind for Addison (Kate Walsh) to find.
Will Thorpe
After dear McDreamy kicked the bucket in Season 11, Mer tried to move on by dating William Thorpe (Scott Elrod). Again, the operative word here is tried. After going out with the handsome surgical oncologist a few times, they consummated their attraction in Mer's bed. But the morning after, Mer legit screamed at him to get out of her bedroom. As she explained to him later — in calmer tones — she just wasn't ready to date again.
See Also
Plus, the actress weighs in on her recent foray into directing for Lifetime.
Andrew DeLuca

Meredith laughed off DeLuca's ill-advised kiss in the Season 14 finale — he was drunk, and she found it flattering — and that was the end of that, right? Apparently not. Here we have a Season 15 promo in which we see a shot of the two of them hooking up, followed by a shot of Meredith looking awfully uncomfortable, so we have to assume the good Dr. Grey might be in the midst of another walk of shame.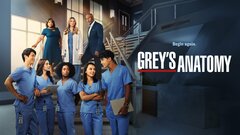 Powered by