Who's Hosting 'Saturday Night Live' in Season 44?
Another season of laughs and unforgettable skits is in full swing — Saturday Night Live returned on September 29 for Season 44.
The first host taking center stage at Studio 8H for the Emmy-winning sketch series' new season was Star Wars star Adam Driver. This was Driver's second time emceeing — he first appeared in Season 41.
SNL is coming into this unprecedented season after winning Outstanding Variety Sketch Series at the 2018 Emmys. This marks the show's fourth win and 23rd nomination in the category.
The show also won seven golden statues at the 2018 Creative Arts Emmys.
Scroll down for a breakdown of upcoming musical guests and hosts:
September 29
Host: Adam Driver
Musical guest: Kanye West
October 6
Host: Awkwafina
Musical guest: Travis Scott
October 13
Host: Seth Meyers
Musical guest: Paul Simon
November 3
Host: Jonah Hill
Musical guest: Maggie Rogers
November 10
Host: Liev Schreiber
Musical guest: Lil Wayne
November 17
Host: Steve Carell
Musical guest: Ella Mai
December 1
Host: Claire Foy
Musical guest: Anderson .Paak
December 8
Host: Jason Momoa
Musical guest: Mumford & Sons
December 15
Host: Matt Damon
Musical guest: Mark Ronson and Miley Cyrus
January 19
Host: Rachel Brosnahan
Musical guest: Greta Van Fleet
January 26
Host: James McAvoy
Musical guest: Meek Mill
February 9
Host: Halsey
Musical guest: Halsey
February 16
Host: Don Cheadle
Musical guest: Gary Clark Jr.
March 2
Host: John Mulaney
Musical guest: Thomas Rhett
March 9
Host: Idris Elba
Musical guest: Khalid
March 30
Host: Sandra Oh
Musical guest: Tame Impala
April 6
Host: Kit Harington
Musical guest: Sara Bareilles
April 13
Host: Emma Stone
Musical guest: BTS
May 4
Host: Adam Sandler
Musical guest: Shawn Mendes
May 11
Host: Emma Thompson
Musical guest: Jonas Brothers
May 18
Host: Paul Rudd
Musical guest: DJ Khaled
Saturday Night Live, Saturdays, 11:30/10:30c, NBC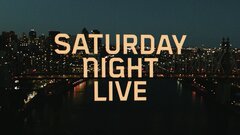 Powered by