'Young Sheldon' STEM Initiative Grant Announced, Inspired by Hit CBS Sitcom
Besides giving viewers a glimpse into the childhood of genius Sheldon Cooper (Iain Armitage) and a lot of laughs, the CBS hit sitcom Young Sheldon is also the inspiration behind a new public school program to help children everywhere get a chance to also become brainiacs.
On Wednesday, the Chuck Lorre Family Foundation (TCLFF) announced that the Young Sheldon STEM Initiative. The initiative, launching to coincide with the beginning of the 2018-19 academic school year, was created to foster excitement for learning in the fields of Science, Technology, Engineering and Math (STEM).
Nineteen select elementary, middle and high schools in Southern California (primarily Burbank) and East Texas (where the show is set) will receive more than $600,000 in two-year grants. Each school will be eligible to submit for continuation grants at the end of the two-year period.
See Also
Catch up on all the episodes before Season 2 premieres.
Items identified by the teachers to be funded include robotics kits, computers, iPads, Vernier probeware, lab tables, 3D printers, LEGO Mindstorm educational kits, general lab equipment, curriculum development and teacher training.
The initiative will also fully fund all costs for an annual experiential opportunity for students and teachers in and outside the classroom. In Texas, teachers and students at each school will attend annual customized education trips to Space Center Houston. In California, students and teachers from each school will visit NASA's Jet Propulsion Laboratory (JPL) in Pasadena. Teachers in both states will have access to JPL and NASA instructional materials.
See Also
An up-close and personal look at the CBS show's first season.
In addition to funding from series co-creator Chuck Lorre's foundation, the initiative will also be supported by Young Sheldon executive producers Steve Molaro and Jim Parsons (who also voices the adult Sheldon in the series and plays him on The Big Bang Theory) as well as the Warner Brothers Television Group and CBS.
In a statement, Lorre said, "To those of us involved in making it, Young Sheldon is more than a television series. At its heart, it's a story about potential. When the education of a child is supported, there is no limit to what that child might eventually achieve.
"We hope that in some small way, this program gives these public schools more STEM educational tools in the classroom for teachers to nurture and ignite the curiosity of students who will ultimately become our future leaders and scholars."
See Also
Plus, find out when the 'Murphy Brown' revival will kick off.
Parsons attended three of the selected East Texas schools. And Young Sheldon co-star Montana Jordan, who plays Sheldon's brother Georgie, attended one of the Texas schools, where his mother also taught first grade.
Here's a video produced to announce the initiative with the cast of Young Sheldon:
Young Sheldon, Season 2 Premiere, Monday, Sept. 24, 8:30/7:30c, CBS. The series moves to its regular timeslot Thursdays at 8:30/7:30c beginning Sept. 27.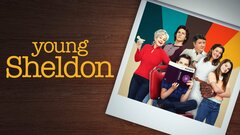 Powered by