Will Jessica and Louis Finally Get Time Alone on 'Fresh Off The Boat'? (VIDEO)
Will Jessica (Constance Wu) and Louis (Randall Park) actually accept help from…Honey (Chelsea Crisp)?!
On this week's Valentine's Day episode of Fresh Off the Boat, the couple consider letting Honey and Marvin (Ray Wise) watch the boys in order to have a Valentine's date. Unfortunately, Emery (Forrest Wheeler) gets a shock when he unexpectedly encounters his parents during their "special" alone time…leaving much to explain.
PHOTOS: See How the Huang Family Celebrated Chinese New Year
While things unfold at home, Eddie (Hudson Yang) tries to go above and beyond for Alison (Isabella Alexander) with tickets to a Janet Jackson concert. Let's see how love goes for Eddie with this smooth move!
Watch this exclusive clip of "Love and Loopholes" to see how love affects the decision-making process.
[jwplatform wntSPr5Q]
Fresh Off the Boat, Tuesday, Feb. 9, 8/7c, ABC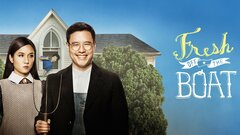 Powered by