'Bachelor in Paradise' Episode 10: Fantasy Suite Time (RECAP)
[SPOILER ALERT: This recap features spoilers from Season 5, Episode 10 of Bachelor in Paradise.]
It's hard to believe that this season of Bachelor in Paradise is actually wrapping up, but the penultimate episode is finally here and soon we'll know which couples end up leaving paradise together and which ones call it quits.
But it wouldn't be a Bach franchise show without tons of drama along the way, and this week, the series certainly delivered.
Here's what you missed on this episode of BIP:
Photoshoot Time
Nervously nervous with @Jennacooperfit! #BachelorInParadise pic.twitter.com/1I3eKVXUk0

— Bachelor in Paradise (@BachParadise) September 11, 2018
This is Jordan's — the male model — ideal date. But, of course, ABC had to throw in a twist: These weren't just any photos they were taking; they were engagement photos.
And even though Jenna was hesitant at the beginning, once the couple got in front of the camera, they were complete naturals.
Producers even upped the ante by putting Jenna in a wedding dress. Could these two legitimately be about to walk down the aisle? We'll find out soon enough.
Robby Hayes Arrives
If Jordan is going to have a nemesis (and why wouldn't he?), it would have to be Robby. For him to arrive this late in the season, means it's drama time because it's not like he's going to make a strong love connection at this point.
As Robby made the rounds, he eventually landed on Jenna and that resulted in a confrontation. Jordan told Robby that he'd be wasting his date card on Jenna, being that he already "had Benoit sent home." Oh, okay.
Shushanna was Robby's only option, so she was the lucky recipient of the date card. Good luck, girlfriend.
A Rough Patch
https://twitter.com/BachParadise/status/1039318106701799424
Despite the fact that Joe and Kendall have been one of the strongest couples all season long, they finally hit their breaking point and it was mostly because Kendall wasn't as ready to commit to a relationship as Joe was.
They had an emotional conversation on the beach, and basically it came down to Kendall being unable to tell Joe that she was in love with him or agree that they should even be exclusive.
Joe had enough and decided to leave paradise in what had to be the most heartbreaking moment of the season. This reaction prompted Kendall decision to leave as well.
No, you guys, we were rooting for you.
The Rose Ceremony
🎺#BachelorInParadise pic.twitter.com/lmh9SNjua4

— Bachelor in Paradise (@BachParadise) September 11, 2018
Here we are, at the second to last rose ceremony of the season and this time, the women have the power.
Sadly, that meant that Olivia finally had to choose a man,. Unsurprisingly, she picked John (because honestly, how do you turn down Venmo John?).
Which meant that Diggy was the unlucky man out, and was sent packing. Bye, Diggy!
The Final Day
It's fantasy sweet! #BachelorInParadise pic.twitter.com/iVeMCDacm4

— Bachelor in Paradise (@BachParadise) September 11, 2018
The next day, Chris Harrison greeted everyone with an announcement: It's time to decide if you want to break up or go to the Fantasy Suite. No pressure, y'all.
John and Olivia weren't ready to take it to the Fantasy Suite, but they did want to continue seeing each other, so they decided to leave paradise together.
Robby and Shu made a similar choice, but when Cassandra tried to do the same with Jordan, he admitted he thought their relationship had run its course.
Kamil seemed a little dodgy at first, but when he sat down with Annaliese to talk things through, he wanted to take it to the Fantasy Suite.
And in no surprise — so did Jordan and Jenna.
Freakout Moment
😢 #BachelorInParadise pic.twitter.com/6iS0RhrYZe

— Bachelor in Paradise (@BachParadise) September 11, 2018
Astrid and Kevin continuing on to the Fantasy Suite seemed to be a given. That is until Astrid went to talk to Kevin and he confessed he was having a mental breakdown.
The pressure of the suite, plus potentially picking out an engagement ring, freaked him out. He said he didn't know if he could see them staying together.
Then, Kevin said what you really don't want to hear — he felt like something was missing in their relationship and that he was at 80 percent with her. Sad face, They ended up leaving paradise.
With that happening, Jordan and Jenna, Krystal and Chris, and Astrid and Kamil all headed to the Fantasy Suite. And what happens next? Tomorrow night will answer all our questions.
Bachelor in Paradise, Season Finale, Tuesday, 8/7c, ABC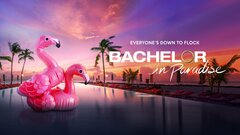 Powered by