'Black Lightning' Cast Shares Their Theories for What's in That Mysterious Briefcase
The electrifying first season of Black Lightning dimmed with Jefferson Pierce (Cress Williams) taking down Martin Proctor (Gregg Henry), the leader of the secret government agency experimenting on the citizens of Freeland.
But even though the costumed hero, his superpowered daughters, badass ex-wife Lynn (Christine Adams) and mentor Gambi (James Remar) saved the day, they still have a major fight ahead of them: Ruthless crime lord Tobias Whale (Marvin "Krondon" Jones III) used Proctor's severed thumbs to unlock a briefcase containing…something bad.
See Also
Plus, find out what EP Salim Akil is saying about a certain briefcase.
So, what's in there? We polled the cast for their best bets.
"The future of Freeland." —Adams
"A highly specialized mutant weed." —Damon Gupton (William Henderson)
"Tobias hasn't been able to see it yet because he's blinded by the glowing green light," but it could be "the future of Freeland." —Jones, who has one more theory about the colorful contents: "The world's most dangerous soup!"
"Lucky Charms." —Williams
Black Lightning, Season 2 Premiere, Tuesday, October 9, 9/8c, The CW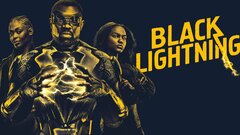 Powered by